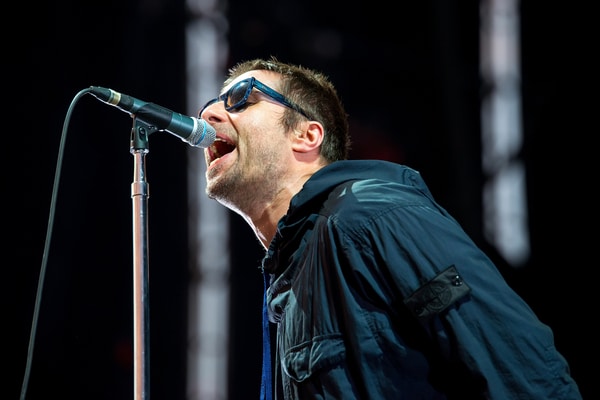 Liam Gallagher has produced his fair share of negative comments toward Chris Martin's Coldplay, with a war of words stretching over a decade. This time, the Manchester rocker has taken a swipe at their categorisation in the Brit Awards – claiming "they're not rock".
The Parachutes hitmakers received nominations for Best Rock/Alternative Act at the prestigious awards show at the O2, last Tuesday.
The four-piece were nominated for the award at this year's ceremony, along with Glass Animals, Tom Grennan, Wolf Alice and eventual winner, Sam Fender.
Speaking to Absolute Radio ahead of the BRITs on Tuesday, Liam was asked for his prediction for which artist would triumph in the Best Rock/Alternative Act category.
Right at the very mention of the name "Coldplay" sends a shiver down the spine of bad boy Liam, who yelped; "leave it out!", before adding; "They're not rock, man!"
"they're rock, man… Jesus!" Liam continued. "I mean, I like Chris Martin and he wrote some great albums and all that, when I think about it. But that new stuff is like… that ain't rock, man.
"I don't know what [alternative] means, but it's not rock."
While correctly predicting North Shields rocker, Sam Fender would win, Liam also gave a shout out to amazing band, Wolf Alice. "They'll do alright."
And, doing "alright" is exactly what the London band achieved as they beat Coldplay to the award for Best Group.
It was not all doom and gloom from Liam, however, as he gave a sterling performance at the awards show. Making its live debut, the rocker performed his new single, Everything's Electric at this years ceremony.
Co-written with Foo Fighters frontman, Dave Grohl, and producer Greg Kurstin, the track gained inspiration from Beastie Boys' 'Sabotage', and The Rolling Stones' 'Gimme Shelter', according to a press release.
The former Oasis frontman is set to tour this year in support of his upcoming new solo album C'MON YOU KNOW', including two sold-out gigs at Knebworth. Liam will also perform on the Emerald Isle, following this week's massive announcement of his show at Kilmainham.
"I'm absolutely buzzing to announce that on 27th August 2022 I'll be playing Royal Hospital Kilmainham. It's gonna be biblical. C'mon You Know. LG x"
Tickets for the gig go on sale via ticketmaster.ie at 10am on Thursday February 17th. However, stay tuned to Radio Nova all weekend for your chance to win tickets to see Liam for free 😍!!