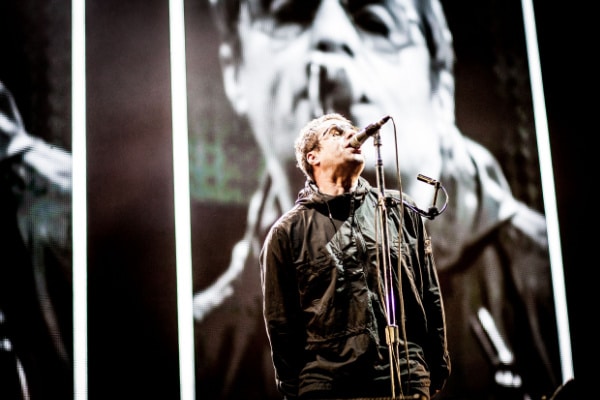 The official trailer for Liam Gallagher's documentary 'Knebworth 22' has been released.
Arriving on November 17, the documentary will be made available to UK cinemas for a short time, before being released for streaming on Paramount+ in late December.
The feature-length documentary which is directed by Toby L, will showcase Liam Gallagher's return to the famous venue, almost 30 years after his former Oasis band took to the stage for those iconic gigs.
Tickets are available here.
"I'm still in shock that I got to play Knebworth two nights, 26 years after I played it with Oasis", Liam Gallagher had said in a previous statement.
"To have played to multiple generations at the same venue so many years apart was beyond Biblical. I'm so glad that we documented it. Knebworth for me was and always will be a celebration of the fans as well as the music. Enjoy the film and let's do it again in another 26 years. LG x". 
"special time again"
Since then, a trailer has been shared offering a sneak preview at the documentary, showing Liam Gallagher's performances at the venue. It follows several fans making their way to the concert.
"After the pandemic, y'know… the bills are fucking too high. There's a load of this shit, a load of that shit. The government's not fucking listening. Stick us all in that field and [let's] have that special time again. It's f*****g amazing", Liam Gallagher can be heard saying in the voiceover.
The trailer also shows footage of Gallagher taking to the Knebworth stage, as well as showing the performance itself. You can check out the trailer for yourselves below.
"We wanted to add another layer to Liam Gallagher's life and story by not just commemorating his return to such hallowed grounds as a solo artist, but also sharing the light with those that make Knebworth such a landmark location – the people", Toby L said of the documentary.
"Few shows will ever hit such scale, and precious few moments such as the one experienced earlier this summer, can mean so much to so many. At a time when it's easy to feel powerless to the weight of the world around us, hopefully this film can be a small reminder of what we're capable of overcoming. It's a love letter to live music and being together again".