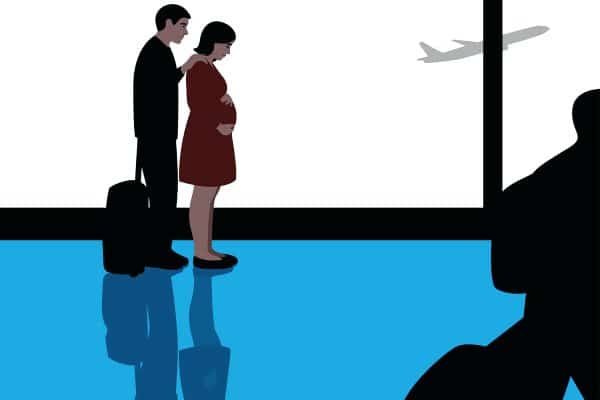 A mother of a woman who took abortion pill speaks out ahead of the Referendum on the 8th amendment to the constitution.
Elaine Bedford from Dublin has told the story of looking after her daughter as she took abortion pills without medical support.
Her daughter, who has diabetes, became pregnant unexpectedly last year at age 25, and opted to take an abortion pill because the pregnancy was putting her health at further risk.
Ms Bedford was joined this morning by Barrister Noel Whelan SC and Sinn Fein leader Mary Lou McDonald. She said:
"She took the tablets at home with me – it was terrifying. I put her to bed, I was bringing in hot water bottles. My daughter was in agony and bleeding and as she was losing consciousness, I couldn't lift the phone to tell the doctors.

"The hell continued for three days – the pain the bleeding, her boyfriend and I taking shifts to look after her. But no doctor. I should have been able to go to the doctor about my daughter. We had no idea how the diabetes would affect the pills – or her. I completely stand over Kate's decision and also to any other girl in Ireland who is put in that position. My heart goes out to everyone of those women – it's not cut and dried, nobody can judge anybody.

"My daughter should not have had to take the pills alone without any medical assistance of aftercare. That's why I am speaking out for my girl and for any girl. And it's why I'll be voting yes this Friday May 25th to look after our daughters as a country."
Sinn Fein leader Mary Lou McDonald TD said,
"As we move into the final stages of this debate, people want to make the right decision on this matter. When people reflect on the fact that abortion pills are being imported every single day, with all of the attendant risks and jeopardy, and in the shadow of a potential sanction of 14 years, they understand why the 12-week provision came to be.

"I've a teenage girl myself, and I can imagine no situation worse for my girl than that she should ever find herself in such a lonely position – that she would feel forced or compelled, left with no other option but to take these pills on her own and without the protection of the law or the protection of medicine. I take a very simple view as a person and a politician and a leader that if I feel this way about my girl, I extend the same sentiment to everybody else's daughters or sisters or mothers or our neighbours or our friends."
Barrister Noel Whelan SC said,
"It is legal nonsense to suggest that you can have a constitutional provision as restrictive against abortion as ours is and not require a criminal sanction for that offence. It is just not legally possible. It is a matter of law that you can do nothing for hard cases unless we delete the lines that are in the constitution and give our directly elected law-makers the power to change those laws."