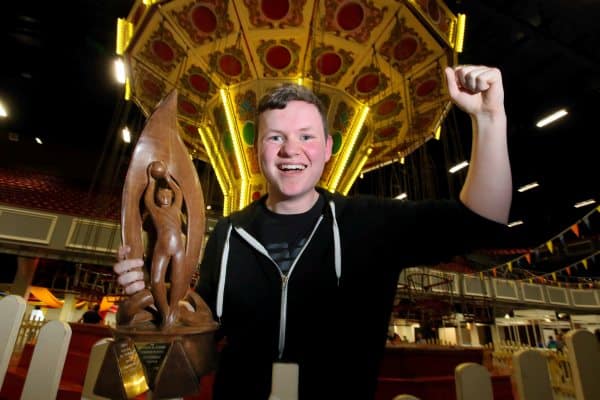 Seventeen year old Darragh Hynes from Ratoath in County Meath has beecome the overall national winner at the Aldi Foróige Youth Citizenship Awards this weekend.
His Citizenship Project, which raised money for St. Francis Hospice through holding a culture night was chosen from over 200 community projects developed by young people.
This is the first time, since the Programme began in 1969, that an individual has won the top prize at the Awards. In that 49 years it has always been a group of young people, working together, to win.
Darragh decided that he would raise funds for St. Francis Hospice, as it was a charity close to many in the community. Darragh, with the support of Ratoath Foróige Club, organised a culture night in the local village theatre.
At the event people were encouraged to display talents in a non competitive atmosphere. Darragh contacted the hospice and sought permission to fundraise for them and they provided buckets and t-shirts. Through ticket sales, raffle tickets and the bucket collection Darragh and the team raised €2,140 for St. Francis Hospice.
More than 2,000 young people, representing every county in Ireland, descended on the Citywest Conference Centre to celebrate and showcase their community action projects at the Awards.
200 youth groups took part, having worked on Citizenship Projects focused on improving the entrants' local communities in areas such as equality, homelessness, inclusion, community events, mental health, culture and much more.
Commenting at the Awards, Seán Campbell, CEO of Foróige said: "The Aldi Foróige Youth Citizenship Awards programme is designed to empower young people across Ireland to use their skills and talents to make a positive contribution to their local community."
"The programme involves young people researching the needs of their community, organising practical action in response, evaluating the effectiveness of their work and reflecting on what they're learning along the way. The projects entered were all about solving social issues in the community for the community."