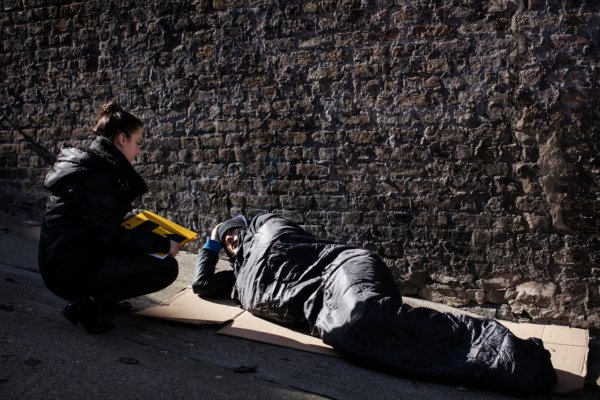 Homeless figures released by the Department for Housing for December show that family homelessness has decreased by 122, but the number of homeless male adults has increased by 64.
There are now more than 5,508 homeless adults in the State. This increase in the number of adult males in homelessness reflects the need for the long held ask from Depaul for a policy change to move away from One Night Only, partial access hostels, towards providing more Supported Temporary Accommodation, which gives a homeless person the security of a bed for at least six months.
Emergency one night only hostels are partial access, meaning service users must leave the premises in the morning, often with nowhere to go until late in the evening when they can again access hostel services. The stability of an STA gives people the time and support needed to make positive changes in moving on from homelessness. Currently, Depaul has more than 200 One Night Only beds.
Depaul CEO Kerry Anthony commented on the latest Government figures. "Just 16 adults left emergency accommodation in December. We have the power to drastically increase the number of positive move ons for adults from emergency accommodation if we increase the number of Supported Temporary Stay beds. An emergency One Night Only bed should not be what a homeless person aspires to, an uncertain bed you can only access between the time of 6pm and 10am is not enough. We need to do better for homeless adults.
In saying that, a reduction in families experiencing homelessness is positive and shows that Minister Murphy and Rebuilding Ireland policies have the potential to work, with the necessary adaptation and consultation between policymakers and organisations like Depaul. "
The decrease in families experiencing homelessness is positive news and welcomed by Depaul, despite the very long way to go in accommodating the still shocking number of 1,408 families struggling in homelessness.
Depaul is a cross border charity working in homelessness and homelessness prevention across Dublin, Belfast, Derry, Newry and Dungannon.
Depaul Ireland has over 25 services, 15 of which are across Dublin. Depaul homeless services work with families, people struggling with addiction, women leaving the criminal justice system, migrants and rough sleepers.
In 2016 alone, Depaul helped 3,620 people struggling in homelessness across ROI and NI.