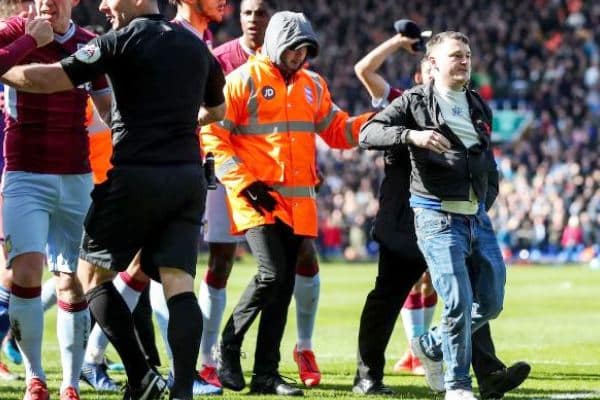 A @BCFC fan who attacked @AVFCOfficial captain @JackGrealish1 on the pitch during the second city derby has been jailed for 14 weeks.
Paul Mitchell, of Cock Hill Lane, Rubery, admitted assault and encroachment on to the pitch.

Former Villa star @leehendrie77 gave his reaction: pic.twitter.com/ORai137m3j

— BBC News Midlands (@bbcmtd) March 11, 2019
Birmingham City fan Paul Mitchell, a married father of one, has been jailed for 14 weeks after he admitted running onto the pitch and assaulting an Aston Villa footballer
Once sought by Ireland to play in green, Villa midfielder Jack Grealish was running away before unsuspectingly being clouted from behind during Sunday's local derby.
Mitchell was jailed after appearing at Birmingham magistrates' court today.
He was also ordered to pay the footballer, £100 compensation for the pain, shock and discomfort caused by the attack.
Mitchell was arrested after invading the pitch at St Andrew's stadium and attacking Villa captain, Grealish, punching him in the jaw and bundling him to the ground.
Pub worker Mitchell also admitted a charge of invading the pitch.
Outling the case, prosecutor Jonathan Purser said: "Ten minutes into the match the Aston Villa player Jack Grealish felt a push in the back and punch in the face.
"He had just won a corner and had back to stand containing Birmingham City supporters.
"The TV footage had captured the defendant running onto the football pitch, Mr Grealish with his back to him and had his name on the back of his shirt.
"Footage shows him taking a running swing, jumping on the back of Grealish and launching that punch.
"There was no substantial injury caused but some discomfort.
"He initially thought it was a player, only when he looked back, he realised it was a blues fan.
"Mitchell claims he was not intoxicated and was with his father and did it as a joke. There were some 23,000 fans at the ground and large police presence. He did say he was remorseful.
"It was an unprovoked assault on someone doing his work. There was pain, discomfort and shock."
In a statement read into the court record by Mr Purser, the Aston Villa captain said:
"I cannot help but feel how lucky I was in this incident. It could have so much worse had the supporter had some sort of weapon."
Grealish later scored the winner in Aston Villa's 1 -0 win over their fierce local rivals.
The court heard Mitchell has a two-year-old child and his partner is pregnant with his second child.
His solicitor told the court:
"My client doesn't seek to justify his behaviour at all. He has brought shame upon himself and his family … and the football club he has supported since he was a child.
"He apologises to Aston Villa and in particular Jack Grealish for his terrible behaviour. He cannot explain what came over him. He is certainly remorseful today."
"His initial foolish intention was to just go onto the pitch and whip up the crowd."
During the hearing it emerged that Mitchell's family have been forced to move out of their home due to death threats.
Birmingham City fan Paul Mitchell has pleaded guilty to assaulting Aston Villa midfielder Jack Grealish during Sunday's derby match

Read more here: https://t.co/t6rshn43jI pic.twitter.com/5EzFdlHg8n

— Sky News (@SkyNews) March 11, 2019