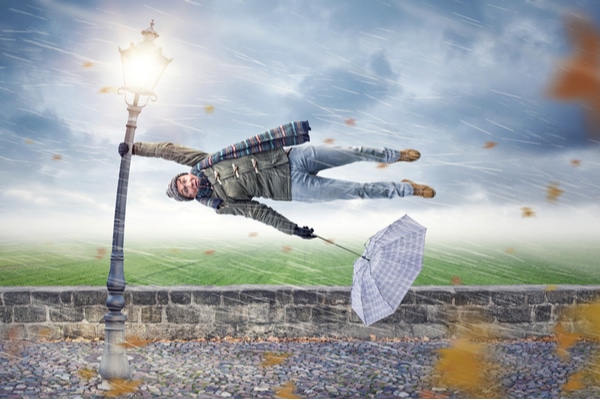 A Red Storm Warning has been issued for Cork and Kerry by Met Éireann. Gusts of 130 km/h have been forecasted.
An Orange Storm warning has also been issued for 14 counties, with Storm Eunice to track across Ireland overnight.
The Orange Storm warnings have been issued for Waterford, Clare, Tipperary, Galway, Wexford, Kerry, Cork, Carlow, Kilkenny, Laois, Wicklow, Dublin and Offaly.
Storm Eunice are to move across the country, bringing dangerous and severe winds in the process. These winds are to arrive at a speed of 80km/h.
It is a storm that meteorologist Gerry Murphy has described as "significant". Murphy also explained that the Red warning means "people should completely stay at home during the period of that warning". 
"Simply because the winds are so strong there is the potential for significant fallen trees, for significant debris from buildings that may not be secure. There is also significant hazards due to the potential of fallen trees if someone is driving", he added.
"short sharp hit"
Falls of rain, snow and sleet will also hit in short falls, with Connacht and Ulster to see mostly snow.
Speaking on their own region, Gerry Murphy of Met Éireann also revealed that the National Emergency Coordination Group will meet with local authorities. They will make the relevant decisions in their own region.
Murphy from Met Éireann also added that Storm Eunice is a fast moving storm, with strong winds developing close to midnight in the southwest.
Strong north westerly winds will stretch all over the country. "The strongest of those will be over the southern half of the country", he said. Adding that there will be "short sharp hit for all areas for a time". 
Gusts of wind up to 130km/h are possible. The warning is in place from 3am until 11am tomorrow.
Met Éireann Issue Status Yellow Warning
It was also confirmed by Met Éireann that a Status Yellow for rain, and snow will be in place for the entire country. It will come into effect from 1am tomorrow and will be valid until 3pm.
Communications Meteorologist for Met Éireann is Bonnie Diamond.
Diamond stated that while no wind warnings will be in place for today, Storm Eunice will bring strong winds, heavy rain and snow in the days ahead.
Ms Diamond added that the northern part of the country is to receive the biggest accumilation of snow, with strong winds expected to prevail across southern countries.
She also warned that this may lead to travel disruption, expecially if you are travelling by air or sea. Gale force winds are also possible.
Met Éireann also tweeted this.
A red wind warning has been issued for #Cork and #Kerry tomorrow morning for #StormEunice

Gusts over 130km/h 💨
Coastal flooding likely
Damage to power lines
Fallen trees expected 🍃
Dangerous driving conditions 🚗⚠️https://t.co/l8JdKfwZt9 pic.twitter.com/wrKASkEmTW

— Met Éireann (@MetEireann) February 17, 2022