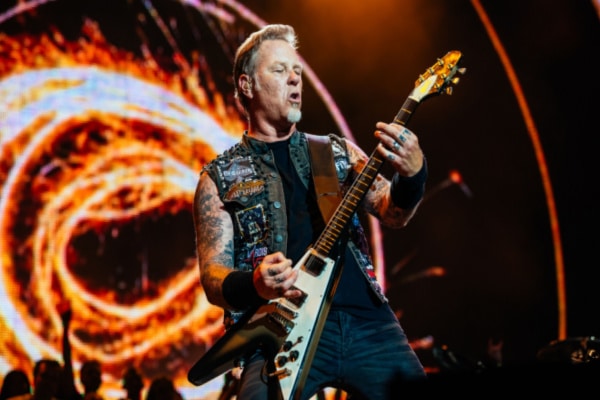 Metallica track 'Master Of Puppets' has cracked the Billboard 100 Chart for the first time, thanks to its inclusion in the fourth installment of Stranger Things.
Following its recent fame from the Netflix hit, Metallica's track has become a hit, 36 years on from its first release. It has reached number 40 in the charts to be precise.
Released in 1986, the track had featured on the third Metallica studio album of the same name. It was released via Elecktra Records.
'Master Of Puppets' had been touted for hitting the charts earlier this week. The UK Top 100 will go live tomorrow (July 15) at 5-45pm BST.
'Master Of Puppets' – Metallica
This Metallica track also featured on Stranger Things episode, 'Piggyback'. It also featured Joseph Quinn's character Eddie Munson performing the song on his guitar.
The video itself, which was shared via the Stranger Things Twitter account, shows Quinn playing on a BC Rich Warlock guitar. It also included the caption, "practice makes perfect".
Quinn also revealed that he decided to learn the track, when he saw it on the show's screenplay.
"On the day, me and Gaten [Matarazzo] just got up on top of the camper van, and just got into it", he said in a previous interview.
He also added, "I played most of it. We got a kind of black belt metal guitarist to come in and do the solo, because I'm a human being. It was very fun".
Speaking about the use of their track in the Netflix show, Metallica also released this statement.
"The way The Duffer Brothers have incorporated music into Stranger Things has always been next level, so we were beyond psyched for them to not only include 'Master of Puppets' in the show, but to have such a pivotal scene built around it. We were all stoked to see the final result and when we did we were totally blown away… it's so extremely well done, so much so, that some folks were able to guess the song just by seeing a few seconds of Joseph Quinn's hands in the trailer!! How crazy cool is that?".