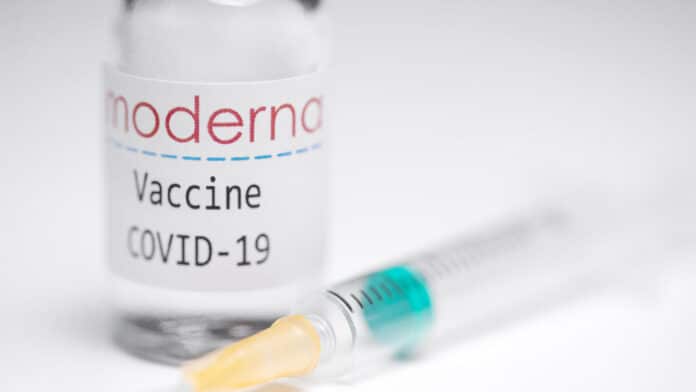 Moderna is to request emergency use authorisation for its covid vaccine in the US and from the European Medicines Agency today. The pharmaceutical company says its full results show the vaccine is 94.1% effective while it's reported no serious safety concerns to date.
The company also reported that the vaccine's efficacy rate was consistent across age, race, ethnicity and gender demographics as well as having a 100% success rate in preventing severe cases of a disease that has killed nearly 1.5 million people.
Moderna said it would now seek conditional approval from the European Medicines Agency, which has already begun a rolling review of its data, and would continue to talk with other regulators.
Moderna said it was on track to have about 20 million doses of its vaccine ready to ship in the United States by the end of 2020, enough to inoculate 10 million people.
Both of the vaccines use a new technology called synthetic messenger RNA (mRNA) whereas others, such as AstraZeneca, are using more traditional methods to develop their vaccines.
AstraZeneca has announced an average efficacy rate of 70 per cent for its shot and as much as 90% for a subgroup of trial participants who got a half dose, followed by a full dose.
But some scientists have expressed doubts about the robustness of the 90% efficacy figure for the smaller group.
Moderna's latest efficacy result is slightly lower than an interim analysis released on November 16th of 94.5% effectiveness, a difference that Zaks said was not statistically significant.
Both the Moderna and Pfizer vaccines proved more effective than anticipated and were far superior to the 50% benchmark set by the US Food and Drug Administration (FDA).
Independent advisers to the FDA are scheduled to meet on December 17th to review Moderna's trial data and make a recommendation to the FDA. They will meet on Decemeber 10th to review Pfizer's data.
The distribution of the Moderna vaccine is expected to be easier than Pfizer's because while it needs to be stored in a freezer, it does not require the ultra-cold temperature needed by the later.
We just announced the primary efficacy analysis in the Phase 3 COVE study for mRNA-1273, our COVID-19 vaccine candidate and that today, we plan to request an Emergency Use Authorization from the U.S. FDA & conditional approval from the EMA. Read more: https://t.co/90FbcVHdWN pic.twitter.com/36tpY0QeFl

— Moderna (@moderna_tx) November 30, 2020