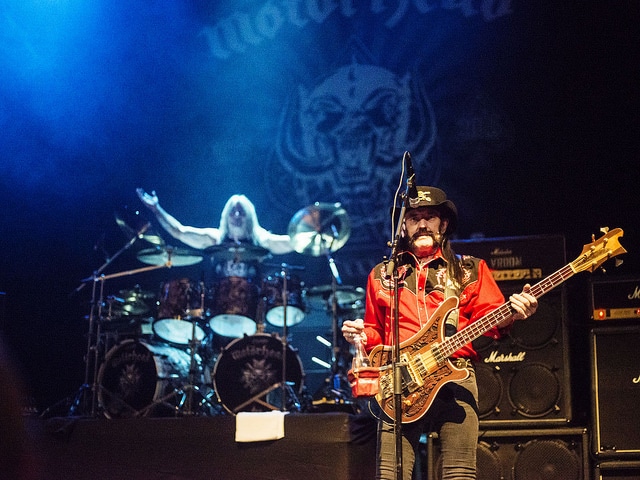 In honor of the band's late founder Lemmy Kilmister, drummer Phil Taylor and guitarist Eddie Clarke, the remaining members of Motorhead have revealed plans for a round of tribute concerts.
Guitarist Phil Campbell and Mikkey Dee intend to perform with a list of special guests for the gigs.
According to Campbell: "It's on the cards, but it's just gonna be a few select shows. We're not gonna be touring with it."
"We're gonna get these people involved and [we have to allow for] their schedules as well. We'll just do some special shows worldwide, which will be good – a tribute to Lemmy and to the band maybe, yeah. But it wouldn't be an ongoing thing. Everyone's too busy. But we want to do something special. We're still trying to work on that now."
Lemmy passed away in December of 2015 from prostate cancer and congestive heart failure at the age of 70. That was a few months after the release of their 22nd studio album 'Bad Magic.'
Phil "Philty animal" Taylor, who played drums in Motörhead from 1975-1984 and 1987-1992 and die
Fast Eddie died this month and featured on Motorhead's 1977 debut album and on the following four releases between the years 1979 and 1982.
Phil "Philthy Animal" Taylor, was Motorhead's drummer from 1975–1984 and 1987–1992 and recorded eleven studio albums and four live albums. He passed away in November 2015.
Speaking to Billboard magazine drummer Mikkey Dee said:
"What I have said since Lemmy's passing is, 'Of course', There is a possibility of doing that when the time is right to do it. If you love New York pizza and you haven't had any New York pizza in several years, you're going to crave that. One day there is maybe going to be a craving for something like this and when there is a craving for it, we have to do it in a proper way."
It seems like the time for NY pizza has come!
https://t.co/kuKue547Ue pic.twitter.com/nfGp4RJlZO

— Mikkey Dee (@themikkeydee) January 16, 2018
Feature Image: Flickr