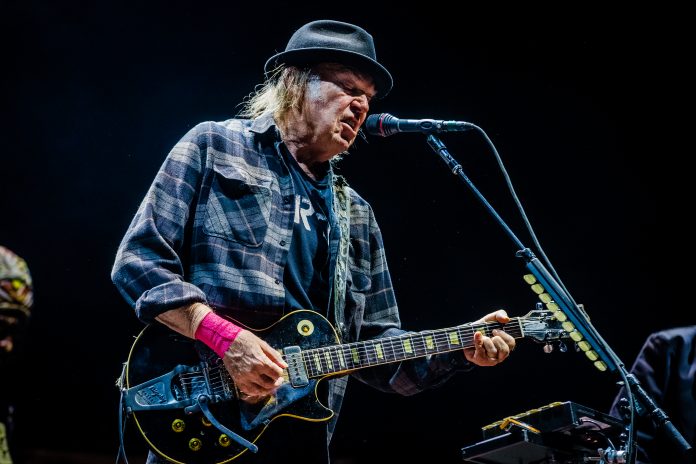 Neil Young has announced the release of 'Return to Greendale'. This is a live album and film from his 2003/04 tour. The tour featured Young, accompanied by his band Crazy Horse. The tour was a performance of his 10 song rock opera entitled 'Greendale', which is also the 25th album released by Young.
'Greendale' is set in a fictional Californian town. The main characters are the Green family. The family consists of Grandma, Grandpa, Edith, Earl, Jed, and Sun Green. It tells the story of how the town is rocked by the death of a beloved policeman. The film also addresses the themes of corporate greed, a media that is obsessed with scandals and Bush era propaganda.
The opera culminates in Sun Green, moving to Alaska to fight for environmental causes. While it was first performed 17 years ago, this rock opera is certainly still relevant in 2020. The issues raised in 'Greendale' are still seen today, albeit in a slightly different nature.
The 2003/04 tour got off to a rocky start as fans were left bemused by the performances. Young and Crazy Horse performed the 10 songs from the album, along with backing dancers and actors and an extravagant stage production.
Finishing off the setlist from that tour, fans were treated to many hits from Young and Crazy Horse's back catalogue such as 'Rockin in the Free World' and 'Cortez the Killer'. However, by the time the tour,ended fans had changed their opinion on the performances and Young had won over his fans.
'Return to Greendale' is due to be released on November 6th through Reprise Records. Fans will have two purchasing options; one is a two disc set and the other is a limited edition box set that will have two LPs, two CDs and the documentary 'Inside Greendale' which is about the making of the album.
'Inside Greendale' will have footage of Young and Crazy Horse in the recording studio and will be mixed with live footage from the tour. All footage was directed and produced by Bernard Shakey and L.A. Johnson.
Neil Young and his archives are held in high regard by fans everywhere. 'Return to Greendale' is the 16th release from Young's performance series. Throughout his career Young has released many performances from his early acoustic days to his electric performances with his band.
The Neil Young Portal remains the go to place for fans wishing to experience and enjoy Young's impressive career. His archives are filled to the brim with news, music, videos, letters,  and opinions that are all important to or associated with Young.
In more good news for Young Fans, 'Return to Greendale' is not the only new release coming. On November 20th, Young will release a 10 disc box set entitled 'Archives Volume 2: 1972-1976.'
That release will be followed up by many more releases including 'Way Down in the Rust Bucket', a 50th anniversary edition of 'After the Gold Rush', 'Carnegie Hall 1970', 'Road of Plenty' and 'Noise and Flowers'. No exact dates have been announced for these new releases as of yet.