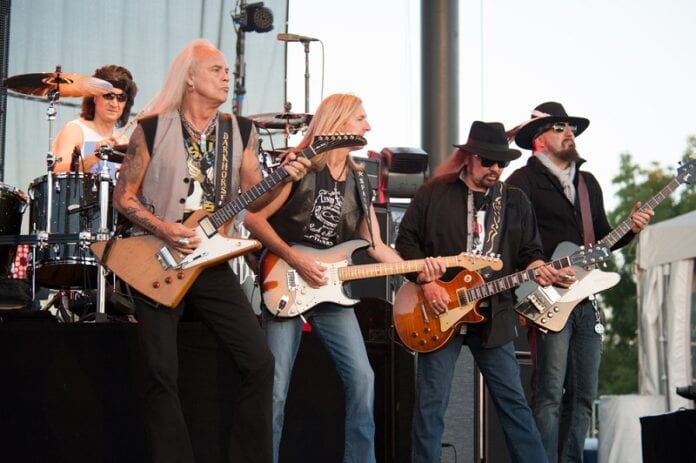 Lynyrd Skynyrd have announced a new live album and concert film from their iconic show at Knebworth Festival from 1976.
The new release is entitled 'Lynyrd Skynyrd Live At Knebworth 76'.
The festival at Knebworth that year was headlined by The Rolling Stones with Lynyrd Skynyrd, 10cc, Hot Tuna and many more in support.
It is estimated that between 120,000 and 150,000 people attended the festival.
Skynyrd performed their classic tracks 'Sweet Home Alabama' and 'Freebird' at Knebworth and you can check out the tracklist below and watch the new trailer as well.
In a 2017 interview, Knebworth festival organiser Freddy Bannister said "Skynyrd caused a real buzz backstage. We all wondered how anyone could follow them." An hour later, we all began to wonder if anyone would even try".
'Live at Knebworth '76' will be available on April 9 as a DVD/CD, Blu-ray/CD, two-LP/DVD or digital video pack. The Blu-ray set comes with a bonus full-length documentary, 'If I Leave Here Tomorrow: A Film About Lynyrd Skynyrd'.
The Lynyrd Skynyrd film was originally released in 2018 and it details the band's entire career.
All versions of the new release are available to pre-order here.
The group's lineup at the time featured singer Ronnie Van Zant, guitarists Gary Rossington, Allen Collins and Steve Gaines, bassist Leon Wilkeson, drummer Artimus Pyle and keyboardist Billy Powell.
Van Zant and Gaines would sadly pass away the following year in the band's infamous plane crash. Backing vocalist Cassie Gaines also died in the crash. The rest of the band were seriously injured.
Assistant road manager Dean Kilpatrick and pilot Walter McCreary and co-pilot William Gray also died in the crash. The group reunited 10 years later with new members.
Lynyrd Skynyrd are not the only band releasing a new live album and concert film. Last week, New Order announced details of their new release and you can read Radio Nova's report on it here.
'Lynyrd Skynyrd: Live at Knebworth '76' Track Listing
1. 'Workin' for MCA'
2. 'I Ain't the One'
3. 'Saturday Night Special'
4. 'Searching'
5. 'Whiskey Rock-A-Roller'
6. 'Travelin' Man'
7. 'Gimme Three Steps'
8. 'Call Me the Breeze'
9. 'T for Texas'
10. 'Sweet Home Alabama'
11. 'Free Bird'
https://www.youtube.com/watch?v=tPvxxyzgTYk