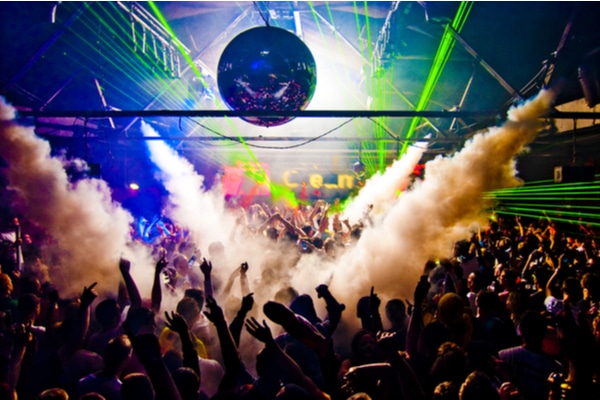 Under dramatic new Government plans, people could find themselves dancing the night away on a nightclub dancefloor until 6am.
This comes as NPHET declared that Ireland has "passed the peak" of this Delta variant of Covid-19. Cases have started to come down again, as we look to put this Covid-19 crisis behind us.
Minister Catherine Martin also announced the first pilot nightclub event will take place in Dublin's Button Factory on September 30.
See Nova's report on that here.
Ireland's night-time economy is so important for our cultural & creative communities and our wider economy & society

Today we publish the recommendations from the Night-Time Economy Taskforce#NTE21https://t.co/whq7jfWP8u pic.twitter.com/Bw3JQAthOZ

— Catherine Martin TD (@cathmartingreen) September 15, 2021
"Why not?"
Asked if she would like to see people out painting the town red until 6am, Catherine Martin had this to say.
"Why not? I think that opportunity should be there", Minister Martin said.
"I think shutting down Dublin leaves us way behind other European cities", she added. "It can be done in a safe way and I think that option definitely should be there". 
"It's breathing life and new opportunities for this sector". 
The Green Party minister also said that these new changes could be brought in "As soon as possible". 
"There is an implementation group in this report and it should be starting to meet fortnightly to look at the implementation of this", she continued.
"But I'd like these sort of things to happen as soon as possible, but it has to be in tandem with the licensing as well". 
Reform for pubs and nightclubs "long overdue"
Justice Ministers Helen McEntee and Hildergarde Naughton will now begin work to end Ireland's old lincencing laws, making it easier for pubs and night clubs to apply for a licence and operate later.
This "long overdue reform" of Ireland's liqour licencing lawas has been welcomed with open arms by the licenced vinters association. They have also called for pubs to be allowed to serve customers until 5am.
"Permitting trading to run to 5am will facilitate a much more staggered approach when it comes to people going home, instead of the majority of the public all being pushed out on to the streets at the same time", said the LVA chief executive Donal O'Keefe.
New proposed plans include the introduction of eight new 24 hour bus routes around Dublin, new concerts for museums and cafés, along with a late night food market in Cork.