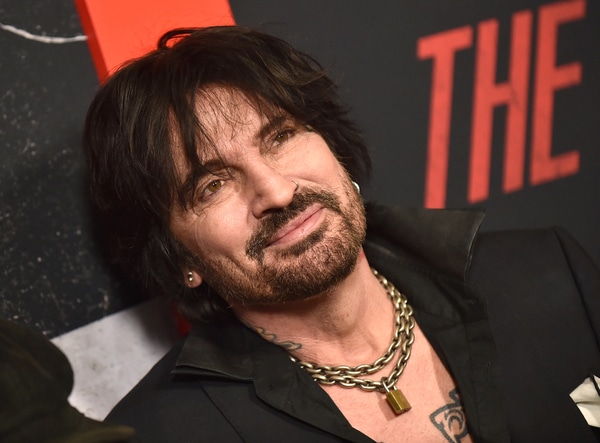 Motley Crue drummer Tommy Lee has given his blessing to Pam & Tommy, the upcoming TV show based on his marriage to Pamela Anderson.
In the show, Tommy Lee is played by Avengers star Sebastian Stan with British actress Lily James in the role of Baywatch star Anderson.
Here's a peek at Pam & Tommy, coming to @Hulu. Based on the true scandal that started it all, featuring Lily James, Sebastian Stan and @SethRogen… ready to rewind? #PamAndTommy pic.twitter.com/4ctdKYEm9F

— Pam & Tommy on Hulu (@pamandtommy) May 7, 2021
Interviewed by US show Entertainment Tonight while attending the MTV Video Music Awards, Lee was asked for his opinion on his story being told in the new show.
"I know Sebastian, he's playing me," Lee replied. "From what he's told me, really beautiful story. I think a lot of people would think it's one thing, but it's really about privacy and how things got crazy then. There's different laws now."
Lee and Anderson were wed in 1995 following a whirlwind four day romance. While honeymooning, the pair made a sex tape which later was released to the public without their consent, causing a storm. The couple would divorce in 1998.
"The story's actually cool, what actually happened wasn't," Lee said, reflecting on the events.
Earlier this year Lily James shocked fans when she revealed a photo of her uncanny transformation into '90s icon Anderson.
View this post on Instagram
Pam & Tommy's hair stylist Barry Lee Moe revealed that it took three to five hours every day to transform James into Anderson.
"We ended up using 25 wigs in the end," Moe said. "Everyone from Seth Rogen to Nick Offerman, Taylor Schilling all wore wigs because we transform them into new characters. Sebastian is the only one who doesn't wear a wig. We had a keratin treatment done, and we coloured it every few weeks."
Seth Rogen plays Rand Gauthier, the former porn actor who stole Lee and Anderson's sex tape while working as an electrician for the pair. Nick Offerman, Taylor Schilling and Andrew Dice Clay also star. The show is directed by Craig Gillespie, who recently directed Cruella and I, Tonya.
Pam & Tommy will debut on the US network Hulu later this year. It's yet to be announced when Irish viewers will be able to watch the eight episode series.
Someone who is far from enthused about Pam & Tommy is Courtney Love, who refused the show permission to use one of her Rolling Stone covers.
"F**k no," was Love's reply to the request, calling the show "a piece of s**t."
"My heart goes out to Pammy," Love wrote on social media. "Further causing her complex trauma. And shame on Lily James whoever the f**k she is."