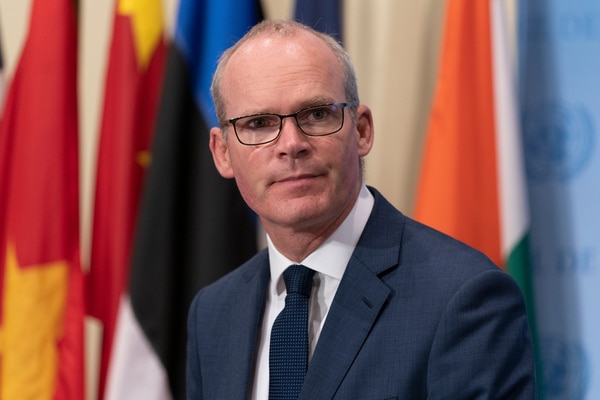 Foreign Affaires Minister, Simon Coveney has said that there are no considerations to expel the Russian ambassador Yuri Filatov.
There have been calls to expel Mr Filatov, after he had repeatedly denied that Russia had intended to invade Ukraine.
Protests had also taken place in Dublin over the weekend. They gathered outside the Russian Embassy on Orwell Road in Rathmines calling Russia to end attacks on Ukraine.
Fianna Fáil MEP Billy Kelleher and Labour TD Ivana Bacik also attended the protest in Dublin.
Protest at the Russian Embassy in #Dublin now calling for Irish Ambassador to leave immediately. #RussiaUkraineConflict #RussiaUkraineWar #BanRussiafromSwift pic.twitter.com/kFEss7lYFU

— Alison O'Reilly (@AlisonMaryORE) February 26, 2022
By 6pm that same evening, around 32 Fianna Fáil TDs and senators also signed a petition calling on Mr Filatov to be expelled.
The petition also reads, "In response to the unlawful invasion of Ukraine by president Putin, and to show Ireland's support for Ukraine's government and people, we the undersigned backbench Fianna Fáil TDs and senators call upon the Irish Government to expel the Russian ambassador to Ireland Yury Anatoliyevich Filatov". 
The chair of the Oireachtas Foreign Affairs Committee and senior Fine Gael TD, Charlie Flanagan had previously tweeted also calling for the expulsion of Mr Filatov.
"some line of communication" must be kept – Coveney
Simon Coveney had said that he understands the anger and sentiment. However, he insisted that he needs to keep some diplomatic channels open.
Coveney also inisted that he will not consider expelling Russian diplomats from Ireland.
"We have children being born in Kyiv who's parents are Irish through surrogacy who can't get to those children", he said.
"I need to insure that regardless of what happens in the coming weeks or months that we have some line of communication with Moscow, in terms of looking after our own people". 
He also stated that Ireland "is with the people of Ukraine". He also said that Ireland will be contributing to the €500 million package supporting the country during this Russian invasion.
Yesterday, the Ukrainian president said that discussion will take place between them and Russia regarding this invasion. More on that report here.