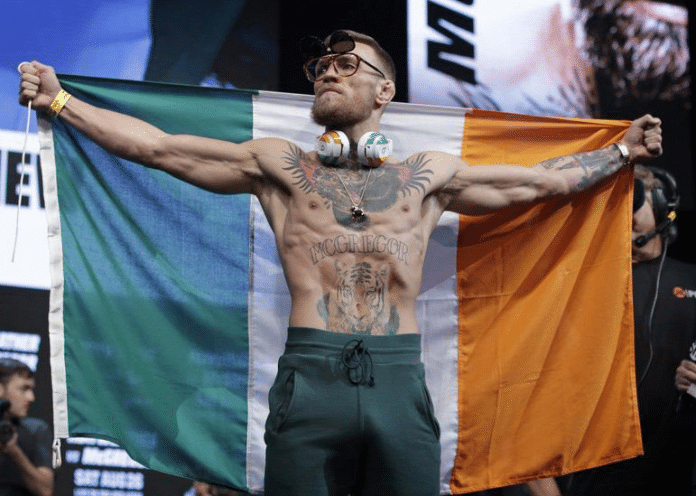 A court in New York has sentenced the MMA fighter Conor McGregor to five days community service and ordered that he must complete an anger management course.
UFC star McGregor pleaded guilty to a charge of disorderly conduct in Brooklyn criminal court today for his involvement in an incident on April 5 at Barclays Center.
30 year-old McGregor entered the plea as part of a deal worked out with the Brooklyn District Attorney's Office. The agreement spares the Dubliner jail time and will not affect McGregor's travel visa. He will not have a criminal record.
Prior to the deal he had faced a possible 12 criminal charges related to the incident, including two felony criminal mischief charges. Those charges carried a maximum sentence of seven years in prison. He spoke briefly outside court:
"I just want to say I'm thankful to the D.A. and the judge for allowing me to move forward," McGregor said in a brief statement outside the courthouse. "I want to say to my friends, my family, my fans — thank you for your support."
McGregor's SBG Ireland teammate Cian Cowley from Dalkey, was also arrested in April for his involvement in the attack. He also pleaded guilty to disorderly conduct Thursday.
A potential lightweight title fight between McGregor and current champion Khabib Nurmagomedov is potentially the biggest fight in UFC history. Nurmagomedov was on the bus that McGregor attacked, and was the target of the Irish star's actions.
NEW: UFC star Conor McGregor pleaded guilty to misdemeanor disorderly conduct stemming from a melee at Brooklyn's Barclays Center in April. He was sentenced to community service and anger management. https://t.co/7J300zTUfs pic.twitter.com/5nmAkZ0uw5

— ABC News (@ABC) July 26, 2018
Video: Conor McGregor makes first comments after this morning's decision in Brooklyn.https://t.co/GDrgQp3JSZ

— Greg Rosenstein (@grosenstein) July 26, 2018
Video of Conor McGregor leaving the courthouse moments ago. pic.twitter.com/aWYa0MaK7D

— Ariel Helwani (@arielhelwani) July 26, 2018