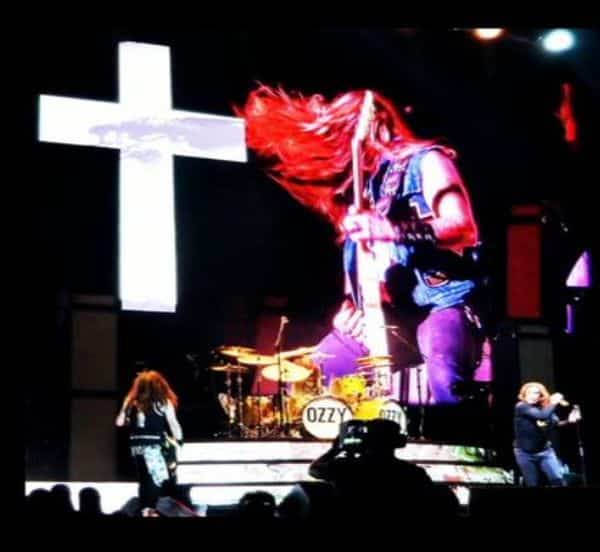 Ozzy Osbourne kicked off his 'No More Tours 2,' with a headlining set on April 27th at the Welcome to Rockville festival in Jacksonville, Florida. Ozzy claims this will be his last world tour ever. There's videos of the concert available as well as a complete set list below.
He opened the 14 song stormer with 'Bark at the Moon' and closed with the epic 'Paranoid.' That was one of two Sabbath songs he played, as well as 'War Pigs.' Guitarist Zakk Wylde played blistering solos as he walked through the audience at times. The line up also featured drummer Tommy Clufetos who played on Black Sabbath's last two tours.
Thank you Jacksonville!
Tomorrow night in Ft. Lauderdale#NoMoreTours2https://t.co/mldusvVoPx pic.twitter.com/2ZVIOneSRp

— Ozzy Osbourne (@OzzyOsbourne) April 28, 2018
After having played one more U.S show on the 28th at FortRock in Fort Lauderdale, Florida, Ozzy will now spend May, June and the first week of July in Mexico, South America and Europe. The mammoth stint will then return to North America on Aug. 30th at the PPL Center in Allentown, Pa., and continue until Oct. 13 at the MGM Grand Garden Arena in Las Vegas.
Osbourne has insisted he's not retiring, instead opting to scale back his schedule to devote more time to his grandchildren. According to the Lord of Darkness, 'It's 'No More Tours,' I'm just not doing world tours anymore. I'm still going to be doing gigs, but I'm not going on tour for six months at a time anymore. I'd like to spend some time at home. I've experienced fantastic things; it's been an incredible journey. I just need to slow it down a little.'
Ozzy Osbourne, Metropolitan Park, Jacksonville, Fla., April 27, 2018 Set List
1. "Bark at the Moon"
2. "Mr. Crowley"
3. "I Don't Know"
4. "Suicide Solution"
5. "No More Tears"
6. "Road to Nowhere"
7. "War Pigs"
8. "Miracle Man / Crazy Babies / Desire / Perry Mason" (Zakk Wylde Guitar Solo)
9. Drum Solo
10. "I Don't Want to Change the World"
11. "Shot In the Dark"
12. "Crazy Train"
Rolling w/THE BOSS & THE FELLAS!It was at this Moment The Female Growth Hormone Kicked in Allowing me To set a New Personal Record on The UTERUS DEADLIFT PLATFORM!tBLSt SDMF – pic: Roy McKee "GRIMMEST HITS" @Spotify @iTunes @AppleMusic @amazon @OzzyOsbourne pic.twitter.com/kO2xvB9j8S

— Zakk Wylde (@ZakkWyldeBLS) April 28, 2018