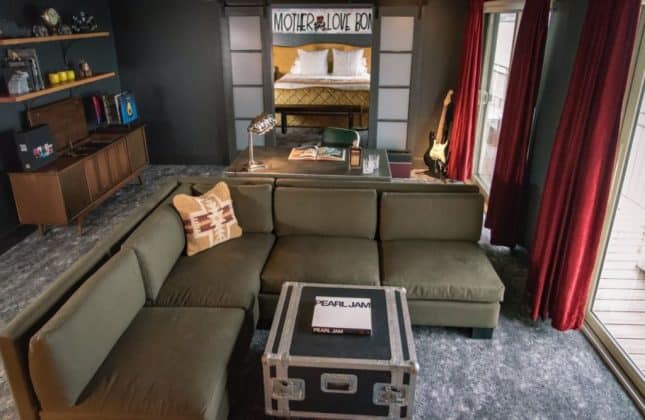 If you consider yourself to be a Pearl Jam superfan then this could be the holiday destination for you. The Seattle hotel The Edgewater has created a hotel suite with a Pearl Jam theme! There's pictures of the newly launched hotel room available below.
The Edgewater also has a Beatles themed suite and is now taking bookings for its Pearl Jam suite. The hotel teamed up with the band and their fan club to put together the new room. According to the hotel's website, the room includes 'industrial, grunge-inspired designs, authentic band art posters, fan representation in design and ultimate rock 'n' roll luxury.'
'Just Breathe' in Ultimate @PearlJam Fandom @ this New Themed Hotel Suite https://t.co/uUbQnMC7Rv Need another reason to stay? The Edgewater, in partnership with Vitalogy Foundation, will donate 10% of the suite revenues from May 1 – Aug 10 to help fight homelessness in Seattle. pic.twitter.com/5PYr9iXdPT

— demetrios (@demetriosns) April 26, 2018

The suite also comes with a record player, packed with the band's albums on vinyl and if you get inspired and feel the need to rock out there's a guitar and amplifier!