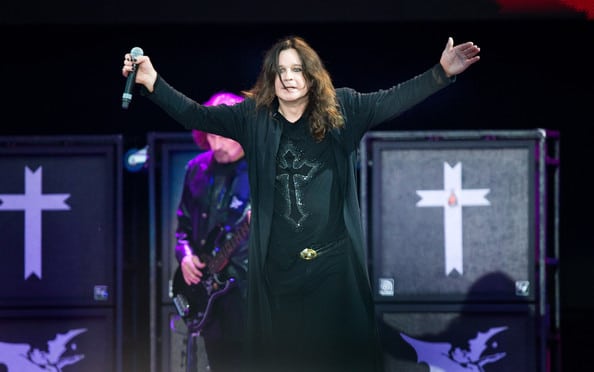 Ozzy Osbourne opened up recently about Black Sabbath's farewell tour. The metal singer admitted that he felt the band was "too serious." Osbourne was interviewed by the Philadelphia Inquirer about the Sabbath stint, which concluded in February 2017. The singer confessed he didn't particularly enjoy it,
"I didn't have a great time. I spent nine or 10 years in Sabbath, but I'd been away from them for over 30 years. With them, I'm just a singer. With me, I get to do what I want to do. I was getting bad vibes from them for being Ozzy. I don't know, what the f–k else can I be?"
Ozzy reiterated this in another interview with Rolling Stone, sharing his thoughts, he said,
"With Sabbath, all I am is a singer with a band," adding that with his solo band, "I've got a lot of freedom and I have fun with it."
He also said that Tony Iommi had a run in with him over singing on his parts,
"[I was] not allowed to have f–king fun with Sabbath," he said. "It's too serious. Tony [Iommi] was trying to have a go at me, saying, 'Don't f-king talk over my solos.' I go, 'Okay, are you sure? 'Cause most of the f–king song is solos. The intro to the song is f–kin' five minutes and then I sing for about two seconds and then it's another one.' With my own thing, I'm looking to have fun, and that's what music's about for me. I'm not a serious f–king singer. I'm just a frontman who's trying to get the crowd going in front."

Despite the issues Osbourne is still proud of his work with Black Sabbath, admitting that he "wouldn't change a thing" about his career.
"If I changed anything, I wouldn't be where I am now. I had no idea when we did our first Black Sabbath album, 50 years up the road, I'd be doing all these shows in front of 20,000 people. … I thought, 'This will be good for a couple of albums and I'll get a few chicks along the way,. I left Sabbath and I did a great thing on my own. .… My life has just been unbelievable. You couldn't write my story; you couldn't invent me."
Meanwhile, Ozzy has been touring the world extensively on "No More Tours 2", and it seems he's enjoying the return of guitarist Zakk Wylde back in the outfit. Osbourne is now looking to release at least one more solo record featuring Wylde on guitar. In the latest interview with Rolling Stone, Osbourne stated,
"This band is really good," "I'd like to do another album with Zakk if I could. There's one called 'Mr. Armageddon,' which is gonna be a good song… It's not about Christmas. It's a nice, sweet little song about a man called 'Mr. Armageddon.'"
Source: CoS
Don't forget you can keep up-to-date on all things Nova over on our Instagram page – follow us for all the craziness of radio life coupled with news, sports and LOTS of cool competitions! Click here..