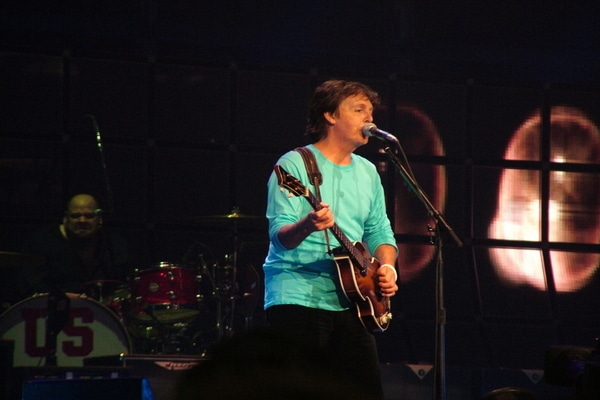 Paul McCartney has shared a look at how the video for his latest single Find My Way was created.
The track sees Macca collaborate with Beck. It opens McCartney's latest album, McCartney III: Imagined, which is a reimagining of McCartney's 2020 album McCartney III.
The video for the song drew much attention for its featuring a digitally de-aged version of McCartney. The young Macca dances his way through a hotel and various other locales in the clip. It concludes with the digital McCartney removing his mask to reveal it's been Beck all along.
The promo was devised by director Andrew Donaho, who has previously directed promos for Janelle Monae, Khalid and The Strokes. The video also features choreography from Phil Tayag.
Hyperreal Digital, an outfit that specialises in creating realistic "digital avatars", was enlisted to pull off the video's de-aging effects.
Speaking of his company's work, Hyperreal's CEO Remington Scott said "The technology to de-age talent and have them perform in creative environments like this is now fully-realised, even with one of the most recognised faces in the world."
McCartney and Donaho have now released a behind-the-scenes video which offers an insight into the creation of the eye-catching music promo.
"In the same way the track has these seamless transitions from one section to the next, we wanted to do the same thing visually," Donaho explains in the video. "So we created this oner… It's not a oner, it's a handful of takes stitched together, but it has the feeling of a neverending shot."
McCartney recently took to social media to urge his fans to get vaccinated.
The former Beatle posted a picture of himself receiving a jab while clad in a beanie hat and facemask to his official Twitter and Instagram accounts. The image was captioned with the message "BE COOL. GET VAXX'D – Paul."
"The vaccine will get us out of this," McCartney said back in December. "I think we'll come through it, I know we'll come through, and it's great news about the vaccine. I'll have it as soon as I'm allowed."
View this post on Instagram
Super Furry Animals recently released audio of McCartney chewing celery. Macca made a cameo on the Welsh band's 2001 track Receptacle for the respectable.
"He was going to come to the studio and then decided not to for some reason," SFA's keyboardist Cian Ciarán explained. "So, we sent him stereo backing tracks so he could keep time, then he sent the tape back with a message that started with a really dodgy Welsh accent. Then he goes, 'I hope you like it' – the next thing you know you just hear this chewing sound!"