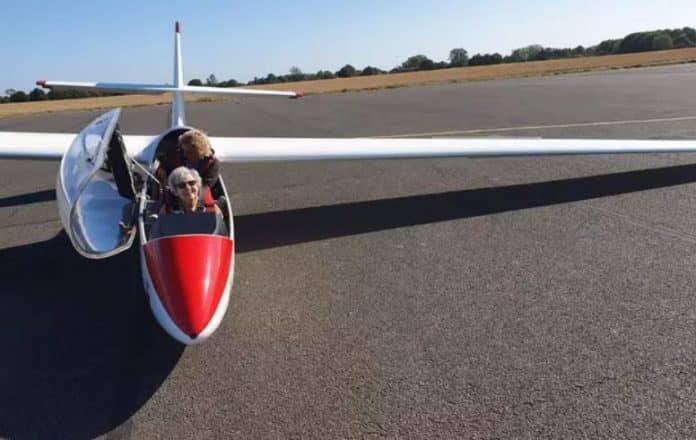 A care home resident celebrated her 100th birthday in style by surfing the clouds in a glider plane!
Last year, Olwyn Hopkins, a resident at Care UK's Davers Court, in Bury St Edmunds, was wonderfully surprised by the staff at the home when they offered her the chance to fly in a glider plane.
Keen to hit the 100 mark, she decided that another flying visit was in order, and took to the skies 82 years after she first lifted off in a glider aged 19.
As part of the wishing tree initiative, the team at Davers Court encourages residents to submit wishes they might have.
Their desires can be related to something they've never been able to do or something they'd like to do again.
With the help of Rattlesden Gliding Club, Olwyn took off from Felsham, and the 100-year-old was able to take in the breathtaking view of Suffolk beneath. Sharlene Van Tonder, home manager at Davers Court, said via Pretty 52:
"Olwyn last flying experience was a real success, so when she submitted her wish to fly a second time through our 'wishing tree' initiative, we were thrilled to be able to grant her wish and help her to fulfill her dreams once more.'
"Olwyn had a brilliant time and it was great to see how being up in the air brings her so much joy." Olwyn from Wales added:
"I wanted to show people that you can be adventurous at any age, and that the sky really is the limit!"
Images: Davers Court