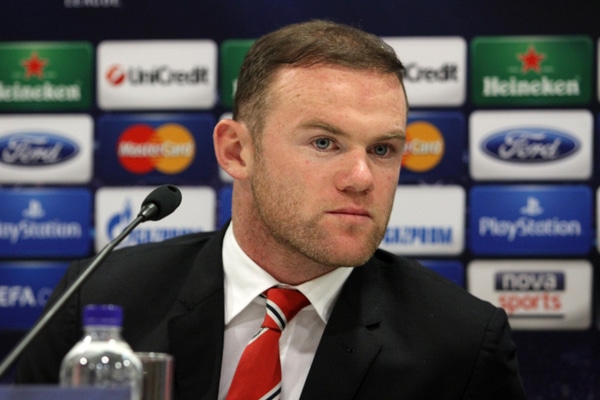 Wayne Rooney called the police after photos of him in a hotel room with three barely dressed women have gone viral.
Following Derby County's 2-1 defeat to Salford City in a pre season friendly, their manager Wayne Rooney partied late into the hours with Snapchat model Tayler Ryan, and her friends Brooke Morgan and Elsie Melvin. All aged 21.
Rooney was spotted passed out in the photos, as the women paraded in their underwear in their Manchester hotel room.
One of them also flashed their bottom next to Rooney. Posting it online, they wrote "Mooney Rooney". Another photo which also went viral shows Rooney leaning in on a blonde girl in the nightclub.
Rooney fearing "set up"
Following this, Rooney has since called the police, saying that the photographs were taken without his consent as he was passed out when they were taken. He feared he had been the victim of a "set up".
It was also reported that Rooney and friends had invited the girls to his VIP Booth at the exclusive Chinawhite club in Manchester on Saturday night.
"Mortified"
Last night, parents of the girls said they were "mortified" at any trouble they may have caused.
"The poor girls were just going out for a 21st birthday", Tayler's mother Angela said.
"They're 21 and he's nearly 40. He's invited them over. He sent over a security guard to invite them over to his VIP booth".
"It's upset them all. They're in tears. She's a good girl and comes from a decent family".
"They thought they were being funny but I've told them it was absolutely stupid".
The added, "I feel awful for them but I'm also angry because they've been stupid".
"The girls were out celebrating a pal's birthday", one friend said.
"They love Chinawhite and are always there but couldn't believe their luck when they were invited over — they were stunned", they added."They spent a couple of hours with him and his pals there before they moved on".
Rooney also went back with the girls to their hotel room.
"They were flattered. They had a really good night and said Wayne and his friends were lovely", the friend added.
"The girls all love to party but I think this was probably the wildest night of their lives. There was no sexual contact — it was just a great night".
"Wayne was very complimentary of them, of how they looked, but nothing happened".
Tayler had posted a photo of her sitting with Rooney on the settee.
After he passed out, the girls began playing some pranks. One photo shows a girl throwing a peace sign next to Rooney. While another snap shows another girl lying in her lingerie, with the photo titled "sleepy Wayne".
Another one shows a woman in a G-string with the caption "Mooney Rooney".
"a few questions to answer"
When Wayne woke up yesterday morning, he made a swift exit from the hotel.
"Wayne left straight away. He was very rough. There was no hanging around — he just got up and went", the friend added.
"He texted a mate to ask him to pick him up, went downstairs and waited for the friend to pick him up and then he left".
"Then the girls started putting it on social media and it's just gone viral".
"He may have expected that so went first thing into a waiting car and probably back to Coleen".
"I suspect he'll have a few questions to answer back at home".
And now, representatives for Wayne Rooney have said that they have called the police as these snaps were taken without his consent as he was asleep.
Elsewhere, find out the latest on Wayne Rooney's former Man United team mate Ryan Giggs here.