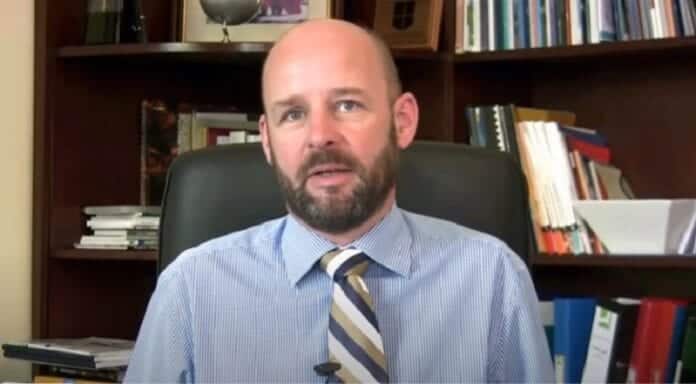 NPHET member Professor Philip Nolan has warned that the country is at a delicate point in its battle with Covid-19.
Professor Nolan who serves as the head of the Irish Epidemiological Modelling Advisory Group issued the warning in an interview with RTÉ this morning.
"We've made this extraordinary progress, but we need to focus on the fact that the prevalence of the disease and the impact of the disease remains very high."
"We're making progress but we're in a very precarious position. We're also at this delicate point where we're beginning to attempt to reopen our priorities…non-urgent healthcare and schooling."
"This is not the time…to relax in any way around the public health measures."
NPHET have reported that there is more people going to work which could increase infection levels in the coming weeks.
It is estimated that around 60 percent of people are going to work compared to 25 percent during the first lockdown.
At the NPHET press conference last night, deputy CMO Dr. Ronan Glynn said:
"Now is not the moment to take the foot off the brake."
The vaccine rollout is said to be ramped up in quarter 2 of this year and NPHET have called on the public to adhere to the public health guidelines for a little while longer.
Nolan said Ireland has "two sources of hope" in its battle with Covid-19 – the vaccine and the country's ability to suppress the virus.
Yesterday, the EMA approved the one dose Johnson and Johnson vaccine for use in the EU. It has been hailed as a "game-changer" as it is the easiest vaccine to administer.
It is the fourth Covid-19 vaccine approved for use in the EU.
Ireland is due to receive 600,000 doses of the J and J vaccine in the second quarter of the year but potential supply issues arising in April and May have been forewarned.
However, issues with the AstraZeneca vaccine continue to hinder Ireland's rollout of the vaccine.
Speaking to RTÉ, Minister for Health Stephen Donnelly said AstraZeneca's supply issues is "causing anxiety on the ground which is just not fair."
Minster Donnelly said he had a meeting with the pharmaceutical company last night and he was told they have "unanticipated problems" which is causing many problems with their global supply.
The New York Times are reporting that America has tens of millions of AstraZeneca vaccine doses that they are not using.
As that vaccine has not yet been approved for use in the States, the company has urged Joe Biden's administration to share its supplies with other countries.
Gonzalo Viña, a spokesman for AstraZeneca said:
"We understand other governments may have reached out to the U.S. government about donation of AstraZeneca doses, and we've asked the U.S. government to give thoughtful consideration to these requests."
The administration for now, has denied these requests.