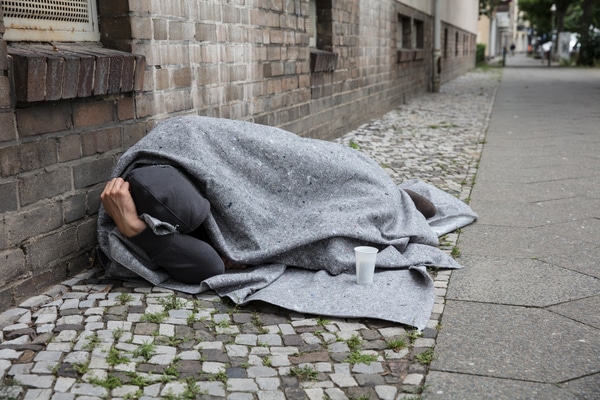 Protesters attending anti-lockdown marches in the city centre were urged to book accommodation at homeless shelters. According to a well-known advocate for homeless people in Dublin, people were told how to take advantage of the loophole in a bid to thwart COVID-19 rules.
Messaging boards, where St Patrick's Day Dublin protests were planned, encouraged protesters to book shelter beds "for a few nights". It is suggested that by doing so, people could thwart the advances of Gardaí, as they would have an address in the city centre. Under current Level 5 restrictions, people's movements are limited to a 5k radius of their address and can only make essential journeys or exercise.
"For people travelling to Dublin for the protests, if you go to homelessdublin.ie, ring the homeless free phone number and they will book you into a homeless hostel for a few nights," an apparent message said. However, the message further stated that booking a bed did not equate to taking beds away from actual homeless people, as they would "just source more accommodation" of short-term beds for protesters.
Sources close to the Gardaí have said they are aware of the messages and said they would be examining the matter. The messages are said to have not been written by protest organisers, but instead, offered as advice to others by a visitor to the messaging platforms. It is unknown if any protesters had taken the advice to book in for short-term accommodation.
Co-founder of Inner City Helping Homeless, Councillor Anthony Flynn (Independent), revealed that he had been made aware of the messages to protesters and described it as "worrying".
"Homeless services are stretched every night. Working on the frontline I see the lack of bed availability," said Flynn. He added that any protester who booked a bed to thwart restrictions, would increase pressure on the homeless services.
https://twitter.com/AnthonyICHH/status/1372194940546117633
Only essential journeys are permitted under the restrictions, as well as exercising within 5k of your home address. Protesters who live within 5k of the protests should not be issued with an on the spot fine, as it could be recognized as "exercise".
Reports suggest that by booking a homeless bed in the city centre, protesters could have travelled to any protest site within 5km of their bed address. If stopped by Gardaí at any point they could have said they were out exercising and so avoided being turned back or fined.
Last month, hundreds of people took part in an anti-lockdown demonstration on Dublin City's Grafton Street. St Stephen's Green park was closed in advance of the protest under instructions from An Garda Síochána. Gardaí had to use batons as they pushed protesters down Grafton Street while fireworks were thrown at them.