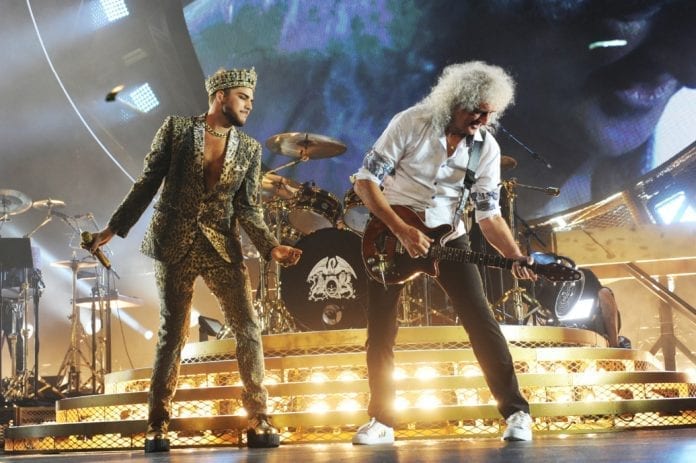 Concertgoers attending the Fire Fight Australia benefit concert for National Bushfire Relief at Sydney's Olympic Stadium got to share in a piece of rock history when Queen's Brian May and Roger Taylor, now fronted by Adam Lambert, recreated the 1985 original 22 minute 'Live Aid' set.
Freddie Mercury was honoured during the performance on the big screen with a crowd controlling video of 'Ay-Oh'
'Live Aid' is marked as the most defining moment in Queen's history – when the band took to the stage of London's Wembley Stadium to perform at 'the Greatest Show on Earth', the 13 July 1985 worldwide 'Live Aid' concert beamed by satellite to 160 countries and watched by an audience of 1.5 billion worldwide, 72,000 of them in Wembley Stadium.
Regarded as one of the best live performances ever, the six-song set from Queen included 'Bohemian Rhapsody', 'Radio Ga Ga', 'Hammer To Fall', 'Crazy Little Thing Called Love', 'We Will Rock You' and 'We Are The Champions'.
Hosted by comedian Celeste Barber, more than 70, 000 tickets to the mega-concert down-under sold out within 24 hours, with all ticket profits to go to groups which are helping Australian fire-ravaged communities get back on their feet.
Of today's performance Brian May said: "We're very happy to be able to do our bit to help Australia to fight back against the terrible fires. This is Australia's pain but it's Humanity's problem. My heart has broken seeing the plight of the animals. I hope the concert will help them too. We all need this tragedy to never happen again. "
Roger Taylor said: "This would seem to be not only Australia's problem but a climate change problem that affects the whole world. We are here right now and anything we can do to help in finding Australia a way to recover is the least we can do as musicians. We are all in trouble."
Alice Cooper was also among performers on the day. In his trademark makeup and outfit, the 72-year-old American singer rocked a packed ANZ Stadium with a slew of hits.
The crowd is absolutely going off for Alice Cooper's 'Poison.' #FireFightAustralia pic.twitter.com/9ysFP2FzEF

— Georgia Clark (@GeorgiaBClark) February 16, 2020
The former Boyzone member and Irish singer Ronan Keating, who has called Australia home many times over the years, made a special stopover in Australia from a Malaysian tour to be part of the event.
Keating's own brother-in-law is a volunteer firefighter on Queensland's Sunshine Coast.
"I wanted people in Australia to know that we heard you and that you weren't alone. Even though we're 12,000 miles away, it's a small world we live in now thanks to social media and technology… it was devasting, it was heartbreaking," Keating told 7news.com.au
Canada's k.d. Lang offered a haunting interpretation of the emotionally powerful Leonard Cohen song, "Hallelujah" which brought the crowd to a standstill after a minute's silence lead by Russell Crowe, who was personally affected by the Australian bushfires first hand.
Iconic Aussie rockers, Icehouse took to the stage to play some of their greatest hits including 'Electric Blue' and the classic 'Great Southern Land' while the night concluded with Australian music royalty John Farnham and Olivia Newton-John.
Farnham performed hits 'Age Of Reason', 'Pressure Down', 'Two Strong Hearts' with Newton-John and 'That's Freedom.'
The climax of the night being Australia's unofficial national anthem, 'You're The Voice', where Farnham was joined on stage by Queen's Brian May and Mitch Tambo.
Fire Fight Australia ended the night raising just over nine million dollars for key organisations providing vital "Rescue", "Relief and Recovery" and "Rehabilitation" assistance in fire affected areas. You can still donate by heading here.
Irish viewers will be able to see selected highlights FROM FIRE FIGHT AUSTRALIA on Sky One HD from 8pm on Monday 17th February.