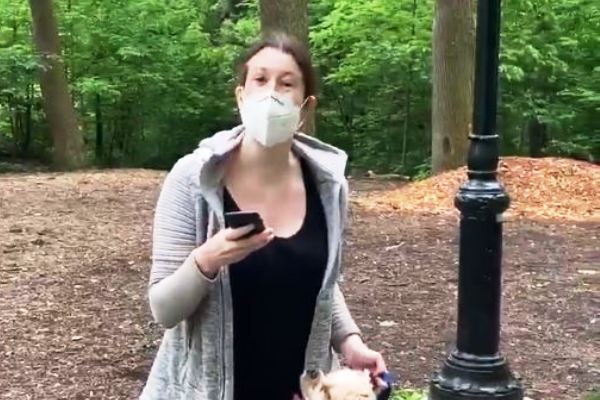 A woman has apologised after a video showing her calling police to say a black man was threatening her life in New York's Central Park when he asked her to put her dog on a leash went viral.
Christian Cooper told NBC that he was bird watching in the park around 8 o'clock on Monday morning when he asked Amy Cooper (unrelated) to put her dog on a leash. The two were in The Ramble, where dogs are required to be on a leash.
In the video Christian Cooper asks Amy Cooper not to come any closer. She responds by asking him to stop recording before attempting to call the police, amid a struggle with her excitable dog.
Eventually when she gets through, Amy Cooper says, "There is an African American man in Central Park. He is recording me and threatened myself and my dog.
"I'm being threatened by a man," she continues. "Please send a cop! Immediately!"
Mr. Cooper said he recorded the incident because he did not want to be intimidated, and that he stopped recording when she finally put her dog on a leash.
Christian Cooper left before police arrived, and no complaint or arrests were made.
Subsequently Amy Cooper told NBC New York she overreacted and regrets calling the police.
"I sincerely and humbly apologize to everyone, especially to that man, his family," she said in a phone call. "It was unacceptable and I humbly and fully apologize to everyone who's seen that video, everyone that's been offended…everyone who thinks of me in a lower light and I understand why they do.
"When I think about the police, I'm such a blessed person. I've come to realize especially today that I think of [the police] as a protection agency, and unfortunately, this has caused me to realize that there are so many people in this country that don't have that luxury."
Her employer, investment management company Franklin Templeton, tweeted on Monday night that she has been put on administrative leave.
https://twitter.com/melodyMcooper/status/1264965252866641920
The video out of Central Park is racism, plain and simple.

She called the police BECAUSE he was a Black man. Even though she was the one breaking the rules. She decided he was the criminal and we know why.

This kind of hatred has no place in our city. https://t.co/6PP7jIwL1g

— Mayor Eric Adams (@NYCMayor) May 26, 2020