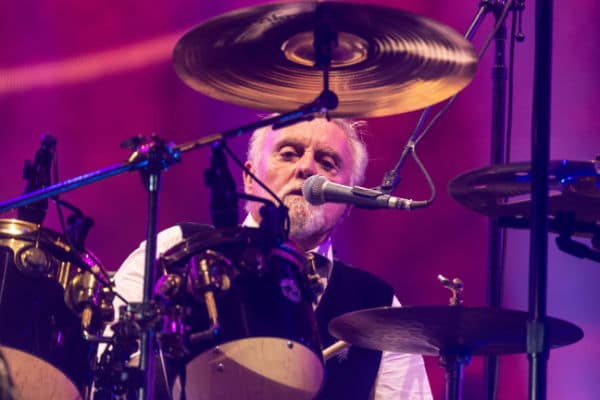 Would you like to listen to the article instead of reading it?
Queen's Roger Taylor has responded to rumours that his son Rufus could become the next Foo Fighters' drummer.
Speculation has continued to mount over who will become the next sticksman of the Dave Grohl fronted band, ever since the death of Taylor Hawkins last year.
Other names mentioned included The Script's Glen Power, and Pearl Jam's Matt Cameron.
"I can't say any more" – Roger Taylor
Speaking in a recent interview, Queen drummer Roger Taylor addressed the rumours that his son Rufus who is also Taylor Hawkins' godson, would become the band's next drummer.
Paying tribute to Hawkins, Roger Taylor did say this, "We're never going to forget him. I can't take him out of my phone". 
Rufus Taylor is currently serving as a bandmember of The Darkness. He has performed on stage with Foo Fighters in the past, including last year's tribute concerts, which took place in his godfather's honour.
"Well, Rufus is phenomenal", proud father Roger Taylor remarked.
"He's turned into this scary, great drummer with The Darkness […] My son, he's just annoyingly powerful and he's become very, very good", he continued. "I can't say any more!".
When asked if his son could feature on-stage with Foo Fighters this year, Roger Taylor also added, "Well, he does play brilliantly with them. He knows all their stuff, knows them all very well". 
"He did play 'Best of You' with the Foos, and it was phenomenal at Wembley, and at The Forum in LA. What exactly is happening now, I don't know". 
Back in March, drummer Matt Cameron had dismissed rumours linking him with the role of Foo Fighters' drummer, insisting that these stories were "false". 
Last week, Foo Fighters also announced their first new album since Hawkin's passing. Arriving on June 2, the album 'But Here We Are' also includes the band's latest single 'Rescued'. 
Check that out and Nova's report here.