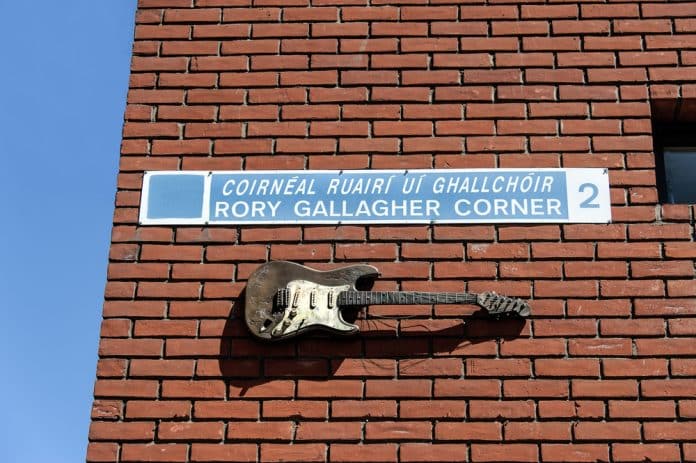 Rory Gallagher's entire collection of solo albums are to be reissued next month. That's to celebrate what would have been the guitarist's 70th birthday.
The legendary Irish blues and rock instrumentalist and singer was born on March 2nd, 1948. On March 16th, a total of 16 albums will be reissued via Universal Music Group on remastered CD and 180-gram vinyl LP.
These reissues represent the first wave of Gallagher releases since UMG obtained the rights to the Irishman's solo catalogue last year.
Gallagher's brother Donal, who is director of the Rory Gallagher Estate said:
"My only sibling wasn't one for birthdays but his birth date gives us a good reason to celebrate Rory's music and legacy."
March will also see a variety of tributes to Gallagher take place – On March 1st, the Rory Gallagher Music Library which is part of Cork City Libraries will host a talk by Sunday Times Culture journalist Garth Cartwright based on his upcoming book on vinyl Going For A Song which features Gallagher.
There will also be a performance by Belgian guitarist Jacques Stotzem, who has a CD tribute to the acoustic work of Rory, while on March 2nd, the Cork Institute Of Technology will unveil a plaque dedicated to Gallagher.
Here's a full list of Gallagher's albums that will be reissued on March 16th below:
Rory Gallagher
Deuce
Live In Europe
Blueprint
Tattoo
Irish Tour '74 (1CD/ 2LP)
Against The Grain
Calling Card
Photo Finish
Top Priority
Stage Struck
Jinx
Defender
Fresh Evidence
BBC Sessions (2CD only)
Notes From San Francisco (2CD / 1LP)
Wheels Within Wheels (vinyl coming soon)