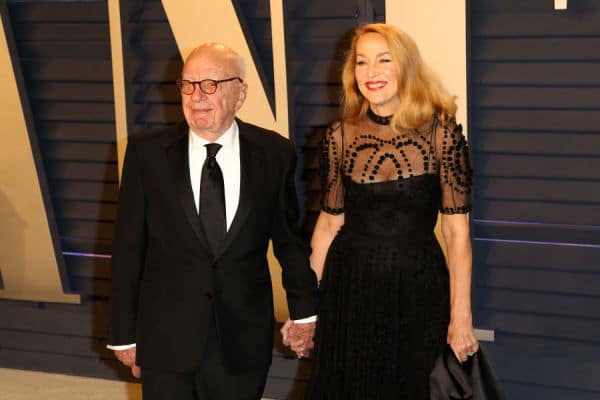 Would you like to listen to the article instead of reading it?
According to reports, Jerry Hall has been banned from giving the writers of HBO series 'Succession' any storyline ideas as part of her divorce settlement with Rupert Murdoch.
The popular HBO series which stars Brian Cox, is partially inspired by powerful mogul families like the Murdochs, along with the Mercers and the Redstones.
"Sumner Redstone's family. The Mercers. The Murdochs. Conrad Black. Sometimes people have said, it's really about these people, isn't it?", the show's creator Jess Armstrong said in 2019.
"It's based on them. And: No. We read widely and we do take elements of stuff. Hopefully, if you're writing in the right area, you end up hitting reality. But there are no moles". 
Despite its huge popularity, it was confirmed that Succession would come to an end after its current season. 
You've Got Mail 
However according to reports, Rupert Murdoch's ex wife Jerry Hall is prohibited from giving the show's writers any storyline ideas, as part of the pair's divorce settlement.
It was also reported that media mogul Rupert Murdoch informed Jerry Hall of his plans to end the marriage via email.
"Jerry, sadly I've decided to call an end to our marriage", the email allegedly read. "We have certainly had some good times, but I have much to do… my New York lawyer will be contacting yours immediately". 
The report has also claimed that "one of the terms of the settlement was that Hall couldn't give story ideas to the writers of Succession".
It was also alleged that Jerry Hall was given 30 days to move out of the couple's Bel Air home. She also had to show receipts, proving that items belonged to her.
After 6 years of marriage, Hall and Murdoch finalised their divorce last year.
Despite this, Hall's lawyer Judy Poller did insist that the pair remain "good friends".
"Jerry and Rupert Murdoch have finalized their divorce", lawyer Judy Poller said. "They remain good friends and wish each other the best for the future". More on this from Nova here.