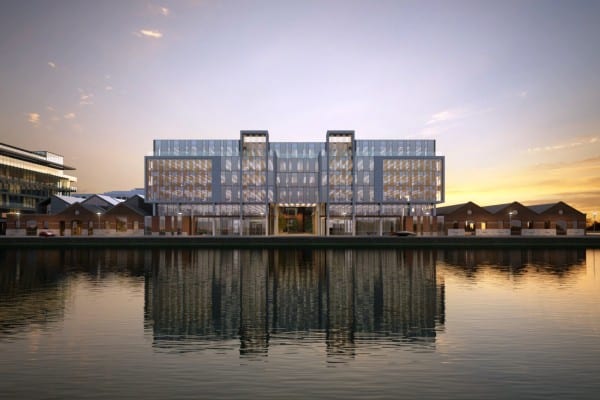 202 new office buildings are planned for Dublin over the next three years, but only half are likely to be delivered according to a new report from property advisors, Savills Ireland.
Their 'Skyline Survey' estimates there is developer ambition for 12 million sq. ft. of new office accommodation by the end of 2021, with over 2.5m sq. ft. of existing buildings either being refurbished or completely redeveloped as part of the process. This would be enough office space to accommodate 120,000 workers.
However, the report reveals a measured 'slippage rate' in the delivery of planned buildings. For projects that are planned for delivery in two years and beyond, Savills analysis shows that over 50% of development has been deferred over time, and this is despite record recent take-up levels and demand for Dublin offices.
Christopher Boyce, who co-authored the report, commented:
"Our analysis over time shows that significant slippage in delivery of the pipeline is very common, with developers tending to overestimate how much space will be delivered in the future. For example, the estimated new stock for delivery in 2019 has already fallen by 17% compared to the May 2017 figures. Furthermore, the volume of new stock in Dublin this year is 2.17 million sq. ft. – a 55% fall on what was estimated back in 2015."
Today 4.5 million sq. ft. of office development across 46 schemes is under construction and due to  continuing strong demand, 57% of space has already been signed up in advance of completion.
With demand for office space at a record high since the recession – currently at 4.1m sq feet (up from 3.5m sq. ft. pre Brexit vote) expectations are that the remainder will be snapped-up soon.
Savills analysis shows demand is crosses sectors and industries, but there's a clear focus on prime locations. 89% of demand includes the core CBD area of Dublin 2.
Demand is driven by tech companies, serviced office operators and financial services who are all vying for the best new buildings in the most sought after areas.
With unemployment at a ten year low of 5.9%, companies competing in the so-called 'war for talent' are using modern offices packed full of staff amenities as a carrot to attract the best young talent.
Rents are a relatively small cost compared to wages, and the quality and location of the office space for workers is part of the offering to staff.
The Savills report, looking further down the pipeline, shows that 85 buildings (6.5 million sq. ft.) have received planning permission, but are not yet on site and its unclear if these buildings will be built.
Andrew Cunningham, Head of Offices at Savills Ireland said:
"Tighter purse strings and greater regulations in the banks and finance houses mean conventional senior debt from domestic banks for speculative development remains scarce, an undoubted cause of the slippage in delivery of new stock. Development is being undertaken by those who are well funded, and while private equity has the largest share of the overall pipeline (51%), projects that are actually under way are more biased towards publicly quote prop-cos, REITS and funds with large balance sheets."
Elsewhere Savills note the impact of 'co-working' on the office market. Take-up of space by serviced office providers – such as WeWork and Iconic – was less than 1% in 2015, however in Q1 2018, this figure rose to 20%.
Michael Healy who recently launched Savills serviced office sourcing and price comparison platform, Workthere, commented:
"Desks are being absorbed both by start-ups and established multi-nationals requiring permanent, swing and project related space. Key drives of this increase in demand are the flexible lease terms on offer and a lack of conventional small to medium sized, fitted office space."