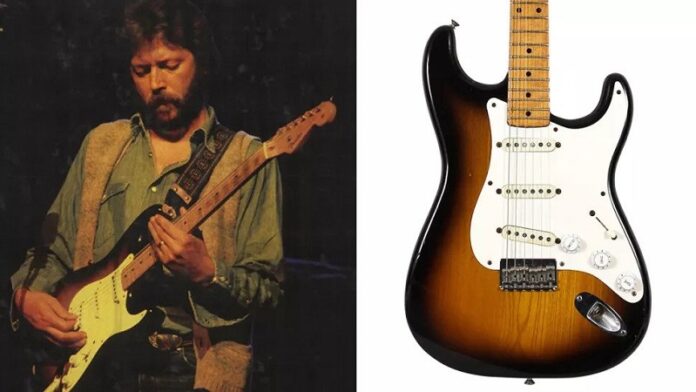 Every day at 4:30 Pat Courtenay brings you seriously addictive music news and today it is all about Eric Clapton and his iconic guitar going on sale at auction for a cool 1 million dollars.
An auction house called 'Gotta Have Rock and Roll' is selling one of Clapton's classic guitars. The sunburst Fender Stratocaster electric guitar was used heavily by the legendary musician between 1979 and 1985.
Eric Clapton acquired the guitar in the late 70s and it would become his main slide guitar in the studio and in concert. He used the guitar to play the songs 'Tulsa Times' and 'Early in the Morning' in the beginning of his setlists in the 70s. You can watch a video of Clapton using the guitar for 'Tulsa Time' below.
The Strat has a maple neck with skunk stripe routing and a 21-fret fingerboard with dot inlay. It also has three pickups, three rotary controls, a five way selector selector switch, a tailpiece with adjustable saddles. The guitar also has the classic white pickguard and the iconic sunburst finish.
The guitar also contains the initials T.G. Tadeo Garcia, a Fender employee was responsible for the shaping of the neck. The numbers 9-54 also appear on the guitar. This is the hallmark for when the neck was completed, September 1954.
The guitar case is included as well. It is a tweed rectangular hard case with red plush lining and includes an adhesive paper label from Clapton's guitar tech, Lee Dickinson. The label reads as "54 S/Burst Fender Strat #7431".
There is also a signed letter from Dickinson stating that Clapton used the guitar exclusively for slide and that it was the only non-tremolo guitar he had. It is also notes that Clapton loved the guitar because it was a '54' – the first year of the Strat.
In the letter, Dickinson remembers the tours Clapton used the guitar on as he was always travelled with the Strat and his other beloved guitars, 'Brownie' and 'Blackie'.
This is not the first time an Eric Clapton guitar has gone on sale at auction. In 2004, Clapton's 'Blackie' guitar was sold for a whopping $959,500. The Strat will sell for more money this time around as the minimum bid is set a 1 million dollars.
For more information about the guitar and the lot, visit 'Gotta have Rock and Roll' here.
Be sure to keep tuning into Radio Nova as we bring you the best music and seriously addictive music news.