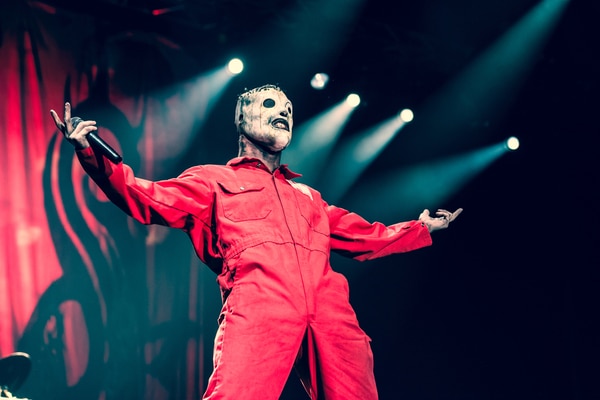 Slipknot were forced to halt a concert when some of their fans decided to light a bonfire in the mosh pit.
The band were performing at the Ak-Chin pavilion, an outdoor amphitheatre in Phoenix, Arizona, on Tuesday night. During a rendition of their track All Out Life, they noticed a fire erupting in the mosh pit. With fans insisting on keeping the flames burning by throwing lawn chairs onto the bonfire, Slipknot were forced to halt their show for 30 minutes. As a result, two songs – Duality and Spit It Out – were cut from their setlist.
Witnesses described the flames as shooting 30 feet into the air.
Minutes before the fire began, fans were chanting "Happy Birthday" to guitarist Mick Thomson.
Luckily, no injuries have been reported, but as you can see from the footage below it could have ended very badly.
On Friday, Slipknot's Knotfest tour resumes in Los Angeles. Last week frontman Corey Taylor promised fans some "cool surprises" at the show.
"The cool thing is that we really worked on a pretty fucking killer set to put together, which we kind of pieced together over some rehearsals – just kind of trial and error, putting the show together and really got it locked tight," Taylor said. "But, having said that, we've got some cool surprises ready for Knotfest LA. Just for the fact that our career's kind of been leading towards this now. And the fact that we have such a stacked line-up – not just Bring Me, but, obviously, Killswitch, Fever 333, Code Orange, my son's band Vended, my wife's dance [group] is gonna be doing an incredible show right before Bring Me [The Horizon] plays."
The show will be the biggest headline show of Slipknot's career to date.
"We're all really, really stoked that we're gonna be able to do something really special for LA, and, honestly, our first real stadium show," Taylor said. "So that's what I'm most stoked about – not just our show, but just the fact that we're putting something on as a testimony to the music we love, the fans that we love to play for, and just hopefully the start of something massive in the future."
Knotfest Los Angeles, which also features Killswitch Engage and Fever 333 on its bill, will also be livestreamed online.
Last month Taylor claimed Slipknot's new album is "80% done" and that the first single will "bludgeon everybody and remind them why we're still Slipknot."