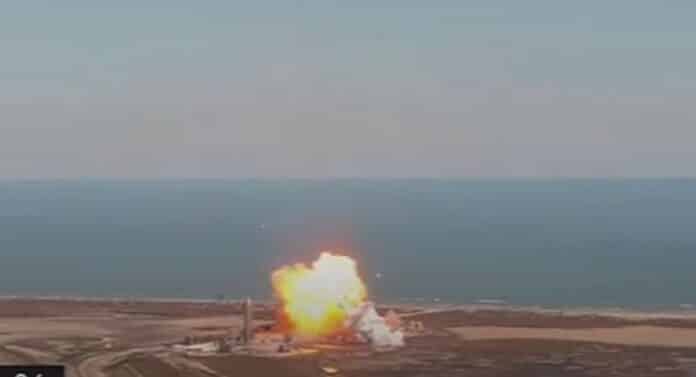 The SpaceX Starship prototype has exploded again on landing. This is the second occasion in recent times that a SpaceX rocket has burst into flames on landing.
The company owned by Elon Musk is attempting to bring people to the Moon and Mars in the coming years, but these test flights leave a lot to be desired.
The ships that Musk hopes will bring people to outer space will be launched from a mega rocket called Super Heavy which is still in development.
Starship 9 launched successfully yesterday but blew up on its final descent which also happened when Starship 8 was tested last December.
SpaceX principal integration engineer John Insprucker said on the company's webcast of the flight "We had, again, another great flight up… we've just gotta work on that landing a little bit. Reminder – this is a test flight."
You can watch the explosion below.
The company tried to launch Starship 9 last week but did not receive approval from the Federal Aviation Administration (FAA).
A spokesperson for the FAA said that SpaceX did not comply with safety regulations for the December 9 flight and needed to take corrective action before proceeding with launch operations.
SpaceX also announced details of the first ever civilian only trip to space. The trip is set to take place in late 2021.
Jared Isaacman, a billionaire entrepreneur is funding the mission for himself and three others. The trip is also serving as a fundraiser for St Jude Children's Research Hospital in Memphis, Tennessee. They are expecting to raise $200 million for cancer research and other causes.
Along with Isaacman, two seats on the ship have been designated to members of the hospital and the last will be for an entrepreneur selected by an independent panel.
Musk will not be joining the upcoming flight but has said in the past he will fly into space one day himself.
Like many billionaires, Elon Musk has seen his wealth increase since the pandemic began. You can read our report on it here.
https://www.youtube.com/watch?v=GLgG03ERMKI