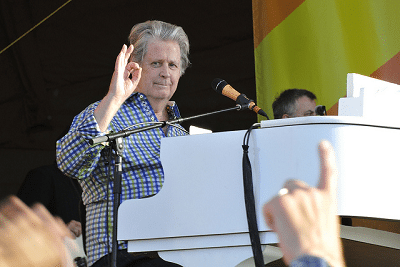 The BBC launched an ambitious new music project last night, a diverse group of musicians gathered to sing a Beach Boys classic.
Chris Martin, Florence Welch, Dave Grohl, Pharrell Williams , Lorde, Brian May, Jake Bugg, and of course the main man Brian Wilson, all joined together to sing parts of the phenomenal Beach Boys track 'God Only Knows.'
The historic music event took place across all of the BBC's TV and radio platforms at 8pm to promote a new season of BBC music.
If you remember the 1997 version of Lou Reed's track 'Perfect Day,' featuring Bono, David Bowie, Elton John and many others, this new video for 'God Only Knows' follows a similar path.
A press release describes BBC Music as "An ambitious wave of new programmes, innovative partnerships and ground-breaking music initiatives that amount to the BBC's strongest commitment to music in 30 years."
The BBC concert orchestra accompanied The Beach Boys' Brian Wilson in the new version of the song, and was joined by an all-star cast of artists from various genres. Sir Elton John, Stevie Wonder, Chris Martin, Jake Bugg, Sam Smith, Chrissie Hynde and others.
Stevie Wonder plays a harmonica, Jools Holland is on the piano, Brian May chips in on guitar, and Dave Grohl appears from the clouds like a rock angel, what more could you want.
We did feel a little bad for Jake Bugg, the young singer-songwriter only got to sing the words "la, la, la, la, la, la." But he can't have too many complaints at least he was included.
Speaking about the song, Brian Wilson said, "I just feel so incredibly humbled that the BBC would choose 'God Only Knows' to promote their new music initiative. All of the artists did such a beautiful job I can't thank them enough. I'm just honoured that 'God Only Knows' was chosen. 'God Only Knows' is a very special song. An extremely spiritual song and one of the best I've ever written."
The song will be available to buy from midnight tonight, with proceeds going to BBC Children in Need.
Check out the video for 'God Only Knows' below.