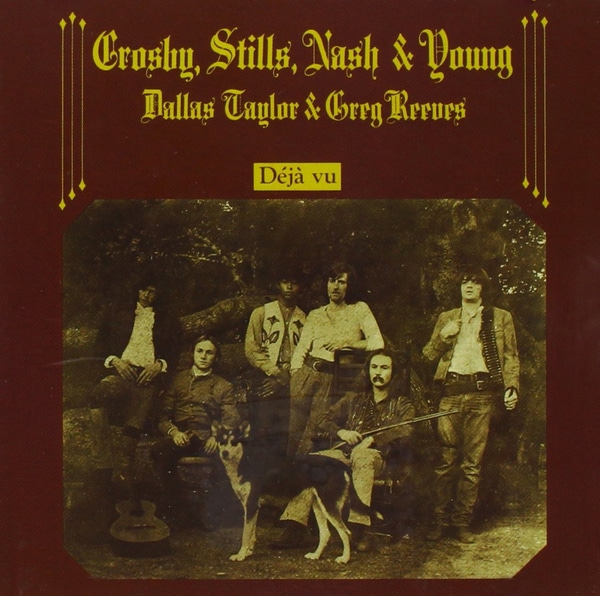 Tonight (November 4th) on the world famous Classic Album at Midnight on Radio Nova we're playing Crosby, Stills, Nash & Young's Déjà Vu.
The album is presented in full with no commercials or interruptions.
The Byrds' David Crosby, Buffalo Springfield's Stephen Stills and The Hollies' Graham Nash initially formed Crosby, Stills & Nash as a trio for their self-titled 1969 debut album. Their debut proved a major hit in the US, peaking at number six on the Billboard chart and spawning a pair of Top 40 hits in singles Judy Blue Eyes and Marrakesh Express.
For their followup, the trio recruited Stills' former Buffalo Springfield bandmate Neil Young to become Crosby, Stills, Nash & Young. An appearance at Woodstock built up anticipation for the group's first album as a quartet.
Recording began in July 1969 but wasn't completed until January of the following year. This was largely due to the method of the individual members of the quartet recording their songs in separate sessions. Stills has said that over 800 recording hours were spent making the record, with over 100 takes spent on perfecting the title track.
All four members alternate the role of lead vocalist, with Crosby on rhythm guitar; Stills on guitar, keyboards and percussion; Nash on piano, rhythm guitar and harmonica; and Young on guitar, keyboards and harmonica.
Along with the main quartet, Déjà Vu also sees contributions from session musicians drummer Dallas Taylor and bassist Greg Reeves, with The Grateful Dead's Jerry Garcia playing pedal steel guitar on Teach Your Children and The Lovin' Spoonful's John Sebastian playing harmonica on the title track.
In its original release version, Déjà Vu features 10 tracks. Crosby wrote the title track and Almost Cut My Hair. Stills penned Carry On and 4 + 20. Nash wrote Teach Your Children and Our House. Helpless and Country Girl were Young's contribution, along with Everybody I Love You, which he wrote with Stills. The album also features a version of Joni Mitchell's Woodstock. Earlier this year a 50th anniversary boxset of the album was released with three bonus discs filled with demos, outtakes and alternate takes.
Déjà Vu was released on March 11th, 1970. Such was the anticipation that over $2 million worth of copies had been pre-ordered in the US. It would spend 88 weeks on the Billboard 200 chart after reaching number one.
Critics were mixed on Déjà Vu on release. Due to the nature of four distinct songwriters working in a largely individual capacity, many reviewers praised the work of some of the quartet's members, while shrugging off the others.
On the other hand, with four unique voices contributing to the album at the top of their game, there's something for everyone on Déjà Vu. Rolling Stone currently ranks Déjà Vu at number 220 on their list of the 500 greatest albums of all time.
Whether you're a fan of Crosby, Stills, Nash or Young, Déjà Vu is a classic album that laid the path for all four members' subsequent successful solo careers. Tune in at midnight tonight to hear it in full.