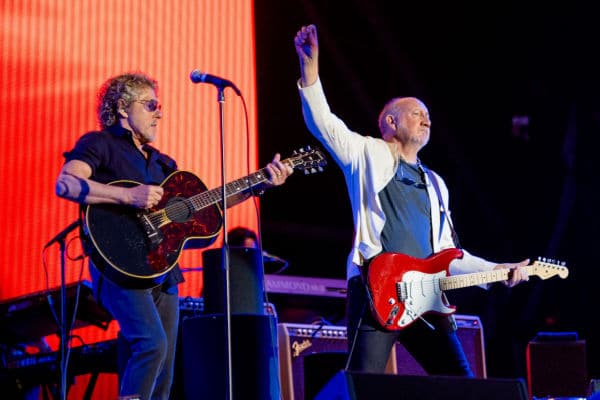 Would you like to listen to the article instead of reading it?
The live album showing The Who performing with Orchestra live at Wembley Stadium is out today.
The concert which took place in July 2019 as part of the band's Moving On Tour, shows The Who performing on stage accompanied by a 50 piece orchestra.
This live album shows the band performing classic tracks, as well as songs from their Who album.
The Who with Orchestra Live at Wembley was released via Polydor/UMC, and it is being issued on 3LP vinyl (black and coloured variants) and as a 2CD+blu-ray package.
Included with this live album is a CD "highlights" disc, while also offering Dolby Atmos, 5.1 and stereo mixes of the performance (there's no video on this blu-ray).
Check out a little preview clip of this live album here.
The Who With Orchestra Live at Wembley is OUT NOW! Listen to the live audio of The Who's 2019 show at Wembley Stadium with the Isobel Griffiths Orchestra, on all streaming platforms and available on a number of formats from The Who's official store – https://t.co/DG6l8K6Olz. pic.twitter.com/0ulqMZUqDp

— The Who (@TheWho) March 31, 2023
Roger Daltrey and co will also be touring once again this July, with similar shows seen in 2019.
The Who Add More Dates
Last month, The Who also added another set of dates to their European Tour, including nine extra UK show, which will see the band take in shows in Edinburgh, which will mark their first gig in the Scottish capital for almost four decades.
On the tour itself, singer Roger Daltrey from the Who, also released this statement.
"Having not toured the UK for six years, it's great that at this time of our careers we have the chance to go to places that are not on the usual touring map", he said.
"Edinburgh Castle and Derby, as well as the other cities across the country that we haven't been to for decades, will make this very special for me", he continued.
"This opportunity will give our UK Who fans the chance to hear our current show, which, with the addition of an orchestra, takes our music to new heights".  
You can find out much more on the band's tour, and this live album from Nova's report here.