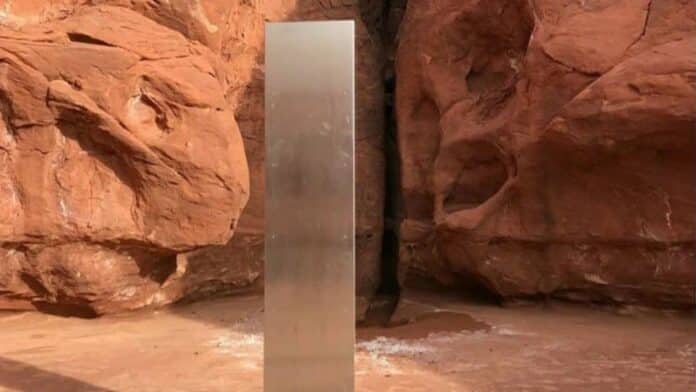 A third mysterious metal monolith has appeared out of nowhere. This time, in California. The first silver metal structure was found in the middle of the Utah desert on November 18th. The structure, reminiscent of objects in Stanley Kubrick's 2001: A Space Odyssey, was first spotted by scientists from the Utah Department of Public Safety, who were doing an aerial survey of the area, counting bighorn sheep.
The monolith was 10 to 12 feet tall and secured into the ground in an extremely isolated red rock canyon. People flocked to see the mysterious item; although authorities kept its location secret to minimise the destruction of the desert landscape. There was much talk of who might have placed it there in such an out of the way spot. An edgy artist? A 2001 fan? Aliens? Last Friday, the structure vanished as quickly as it appeared. A photographer has since claimed that he saw the monolith being removed by four men.
A few days ago, the residents of Piatra Neamt, Romania were surprised to find a silver object, uncannily similar to the one that had disappeared in Utah, atop a hill overlooking their town. Andrei Carabelea, mayor of Piatra Neamt, said of the object, "My guess is that some alien, cheeky and terrible teenagers left home with their parents' UFO and started planting metal monoliths around the world. First in Utah and then at Piatra Neamt. I am honoured that they chose our city."
Suppose that's one explanation. The mayor's hopes of the monolith a tourist attraction were dashed when the Romanian version disappeared too. Now, one of the shiny objects has made an appearance in California. This time, the metal obelisk, perched on Pine Mountain, above the small coastal town of Atascadero, is not so sturdy. It isn't buried into the ground and seems a little more flimsy. It appears that it is riveted to a free-standing frame.