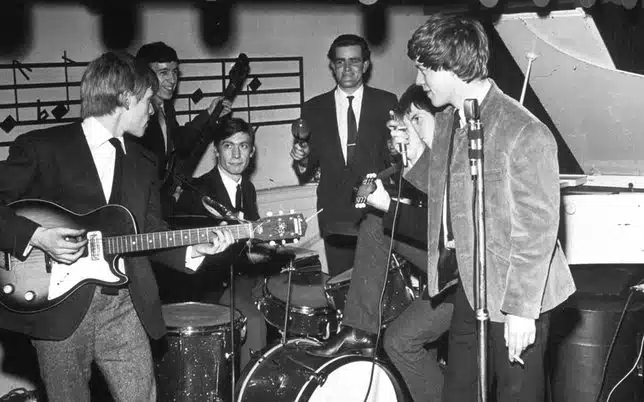 Every day on Radio Nova, just before 11am, we play a couple of songs key to "today in music history" Have a listen! But for now – here's some light reading and watching.  April 22nd in Music History looks like this.
Starting today in 1957, Elvis Presley had his custom manufactured  'Music Gates' installed at Graceland.
1964, The President of The National Federation of Hairdressers offered a free haircut to the next No.1 group in the UK pop charts. He said The Rolling Stones are the worst, one of them looks as if he's got a feather duster on his head.'
1967 In the most popular Monkee poll conducted in the music paper Disc & Music Echo, Davy Jones received 63% of the votes, Mickey Dolenz 22%, Peter Tork 8% and Mike Nesmith 7%.
1972, Deep Purple scored their second UK No.1 album with Machine Head. The album which features 'Smoke on the Water', hugely influential and Purple's most successful album.
1978 Bob Marley and the Wailers performed at the 'One Love Peace Concert' in Jamaica. It was Marley's first public appearance in Jamaica since being wounded in an assassination attempt a year and a half earlier.
2008, It was revealed that 60s singer Tommy Steele took Elvis Presley on a secret tour of London in 1958 after Presley struck up a friendship with Steele. When the rock legend flew into London for a day, Steele apparently took him round the city, showing him famous landmarks such as the Houses of Parliament.
For more than 50 years, Presley fans had believed the only time Elvis ever set foot in the UK was during a stop-over at Prestwick Airport in Scotland in March 1960.
Finally, Happy Birthday to Peter Frampton.
Don't forget you can now get This Week in Music History every Friday from Nova.ie and Radio Nova.
To subscribe to the podcast, just click here