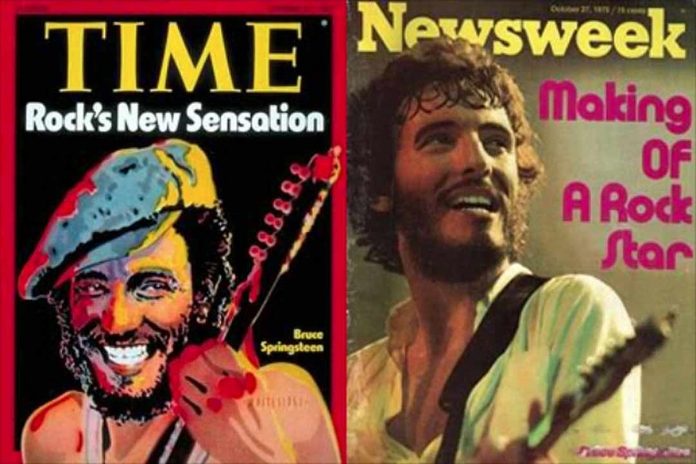 Every day on Radio Nova, just before 11am, we play a couple of songs key to "today in music history" Have a listen! But for now – here's some light reading and watching. April 29th in Music History looks like this.
1976, After a gig in Memphis Bruce Springsteen took a cab to Elvis Presley's Graceland home and proceeded to climb over the wall. A guard took him to be another crank fan and nicked him. Because he was a crazed fan!! But Bruce was pretty well known in 76, having appeared on both the covers of Time and Newsweek, same time, in 75.
1980, Black Sabbath began their first tour with vocalist Ronnie James Dio, who had replaced Ozzy.
1993, Guitarist, producer, Mick Ronson died of liver cancer aged 46. Ronson recorded and toured with Bowie from 1970 to 1973. Here's the moment when David Bowie caused uproar in the world for performing with his arm around Mick..
https://youtu.be/sI66hcu9fIs
1998,  Steven Tyler broke his knee at a concert in Anchorage, Alaska delaying Aerosmith's 'Nine Lives' tour and a total rethink of camera angle adjustments for the filming of the video for 'I Don't Want to Miss a Thing.' No leg shots!
2009, An anonymous Queen fan won a two-hour one-to-one guitar lesson with Brian May, after bidding £7,600  at a private charity auction.
2016, Fifteen of Prince's albums made it into the UK chart as fans rushed to buy his music following his sudden death. Six were in the top 40 with The Very Best Of, Ultimate and Purple Rain at two, three and four.
Born today in 1942, musician Klaus Voorman, who played bass with Manfred Mann and the Plastic Ono Band. Voorman designed the cover for The Beatles album Revolver. As a session musician he worked on a host of recordings, including 'You're So Vain' by Carly Simon.
Happy birthday too to Mike Hogan (bass) of The Cranberries.
Don't forget you can now get This Week in Music History every Friday from Nova.ie and Radio Nova.
To subscribe to the podcast, just click here