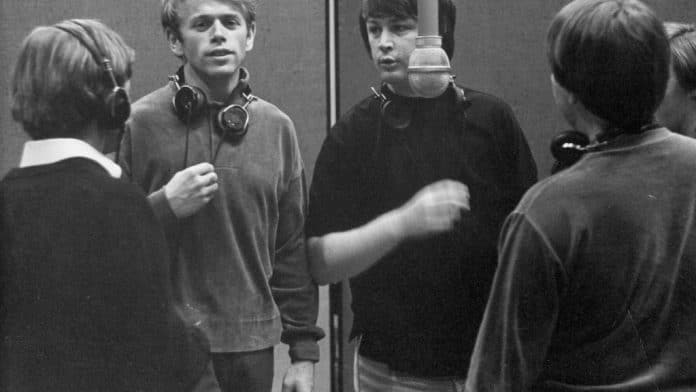 Every day on Radio Nova, just before 11am, we play a couple of songs key to "today in music history" Have a listen! But for now – here's some light reading and watching.  January 22nd in Music History looks like this.
First off, the insane harmonies and goats! In 1966, The Beach Boys went into the studio to record 'Wouldn't It Be Nice', which would be the opening track on their forthcoming album Pet Sounds.
1972, David Bowie 'came out' as bisexual during an interview in the British music weekly Melody Maker.
1994, American actor and singer Telly Savalas died aged 72. He scored the 1975 UK No.1 single 'If'. Played Lt. Theo Kojak a bald New York City detective in the television series Kojak, with a fondness for lollipops and whose trademark line was "Who loves ya, baby?"
2004, Ryan Adams broke a wrist after falling during a gig at the Royal Court Theatre in Liverpool. A fan said, 'One minute he was on the stage and the next he had disappeared. He went down with a thud and we couldn't believe he was trying to continue singing' (Around 2.20 mark!)
2012, Adele broke an American chart record that has stood for years after being set by The Beatles and Pink Floyd. The singers second album 21 clocked up 16 weeks at No.1 on the US chart matching the success of the Titanic original soundtrack. '21', released last January had now beaten The Beatles' Sgt Pepper's and Pink Floyd's The Wall which had previously held the accolade with runs of 15 weeks at No.1.
Fan of Mott The Hoople? Pete Overend Watts anniversary today. He died today in 2017.
It would have been Michael Hutchence's birthday today, he would and should have been 60! It is Steve Perry's birthday,  Mike and the Mechanics vocalist Roachford and Former GnR drummer Steve Adler are celebrating too.
Don't forget you can now get This Week in Music History every Friday from Nova.ie and Radio Nova.
To subscribe to the podcast, just click here