Every day on Radio Nova, just before 11am, we play a couple of songs key to "today in music history" Have a listen! But for now – here's some light reading and watching.  May 16th in Music History looks like this.
1965, Driving away from a gig at the Civic Hall, Long Beach, California, the limo taking The Rolling Stones back to their hotel was besieged by fans who caved in the roof by standing on it. The band attempted to hold the roof up while their chauffeur drove off with bodies falling onto the road.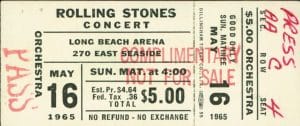 1966, The Beach Boys released the album Pet Sounds in the US. The album is now regarded as a Brian Wilson masterpiece.
1966, Bob Dylan's iconic Blonde On Blonde album was released
1970, Crosby Stills Nash & Young went to No.1 on the US album chart with 'Deja Vu'.
1974, Guitarist Brian May collapsed in New York while Queen were on a US tour and was flown back to England suffering from hepatitis.
https://www.youtube.com/watch?v=pIIEOn8_BdM
1977, The London Evening Standard reported that Led Zeppelin singer Robert Plant had been arrested at Atlanta Airport for being drunk and pulling a knife. Since Plant was at his home in Wales at the time of the incident, the person arrested was a man impersonating Plant and the British paper ran an apology the following night.
1987, U2 started a three week run at No.1 on the US singles chart 'With Or Without You', the group's first US No.1.
1998, Rolling Stones guitarist Keith Richards fell while reaching for a book of nude art in his Connecticut home. The fall broke his ribs, causing the Stones to postpone many dates on their Bridges To Babylon tour. Remember the time he fell out of a tree too?
2010, Ronnie James Dio, singer with Rainbow, Black Sabbath and his own band Dio died after a six-month battle with stomach cancer. He was 67.
Don't forget you can now get This Week in Music History every Friday from Nova.ie and Radio Nova.
To subscribe to the podcast, just click here