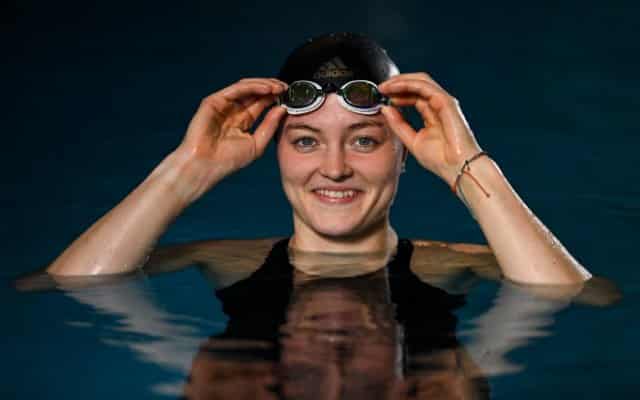 Sligo's Mona McSharry made history today, becoming the first Irish swimmer in 25 years to compete in an Olympic final.
Ranked 11th entering the heats on Sunday evening, McSharry qualified for the semi-final in 9th, before going one step further to reach the final in 8th place.
A time of 1:06.94 in the final – slightly outside of her semi-final race of 1:06.59 –  saw her finish 8th overall.
Speaking afterwards, she said: "It's amazing, thinking about it like that, that there hasn't been anyone else who has done this in 25 years, I think it puts it into perspective. For me, racing in it is just another final – but it really is a lot more than that. It makes me feel so proud that I made it there.
"In the race it was hard to tell, I was really just trying to go for it. It definitely felt like a good race and anything sub 1:07 is a good race in my mind so I'm happy with the race. Of course it wasn't a PB and was the slowest of the three rounds, but I think that comes as well from that there was a sense of relief in making it to the final so I was just excited to go out there and race and see what would happen. The worst  that could happen was that I come 8th at the Olympics and that's what happened so that's not a bad result for my first event."
Earlier in the day, a superb performance from Carolyn Hayes in the women's triathlon saw her finish in 23rd position in a time of 2:02:10, while there was also good news from the boxers, with Aidan Walsh powering his way into the quarter-finals of the men's Welterweight.
Annalise Murphy secured her first top 10 finish of the Games in race five of the Laser Radial series, while there was heartbreak for the Irish men's Rugby Sevens squad meanwhile as despite taking their first ever Olympic win over Kenya this morning (12-7) it was not enough to see them through to the quarter final stages.
Aidan Walsh has qualified for the quarter finals of the Men's Welterweight (63-69kg), following a unanimous win over Cameroon's Albert Mengue Ayissi. The Belfast boxer used his height to his advantage, and boxed smart.
Speaking after the bout the determined fighter said; "It's amazing to get the first one out of the way and focus on the next one. I just listened to the coaches' advice and did what they were telling me. My strategy going into it was to keep it long, keep the basics and to do what the coaches said. They always have the best advice and you just have to put your trust in them and listen to the advice that's given to you. But keep it simple, and what's worked for me and got me here."
While most athletes are being cheered on virtually by family, Walsh's sister, Michaela, is also a member of the boxing team, competing yesterday in the Women's Feather event so was on hand to cheer him on.
"To do it alongside my sister is even more amazing," Aidan continued. "It's incredible it's just one of those ones you can't even describe, because it's surreal. Especially in boxing, like something you hear of brothers in the family, but brother and sister, obviously with the female boxing coming along so good it's amazing. Obviously I'm disappointed for my sister, but now she'll be rooting for me. We always root for each other – it doesn't matter what tournament, win, lose or draw."