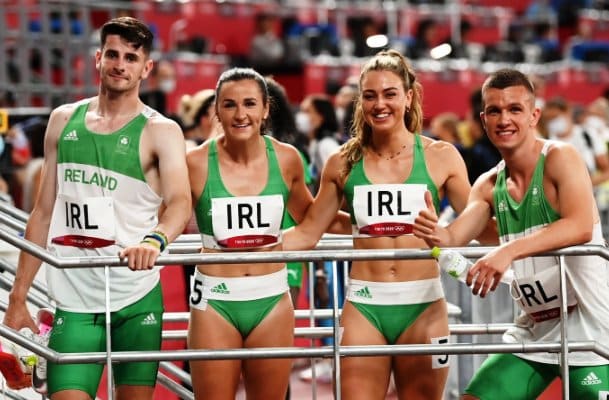 Team Ireland's 4x400m Mixed Relay Team set a new national record by almost four seconds, with the Irish team of Sophie Becker, Cillin Greene, Phil Healy and Christopher O'Donnell finishing in a time of 3:12.88.
Having initially crossing the line in 4th, just one place outside automatic qualification, two teams ahead of them were subsequently disqualified, ensuring Team Ireland's path to tomorrow's final.
Cillian Greene, in his first 4x400m relay, set the team up for success, handing the baton to Phil Healy in the lead. Healy producef the relay leg of her life to give Sophie Becker the chance to do likewise.
Becker, and final leg athlete, Chris O'Donnell, both maintained Ireland's strong 4th place spot through composed performances in lots of traffic, with the team eventually promoted to 2nd place post-race.
Speaking afterwards Healy was quick to praise her teammates, saying: "What a leg by Cillin! He totally took over and showed them his class. He gave me the baton in first, putting the team in the best possible position."
 Final leg runner O'Donnell added that the home support helped carry them around the track: "There might be nobody in the stands but we know there's a full stadium at home watching us, and they've been absolutely amazing."
The team returns to the Olympic Stadium on Day 8 to compete for a medal, in the historic first edition of this event at an Olympic Games.