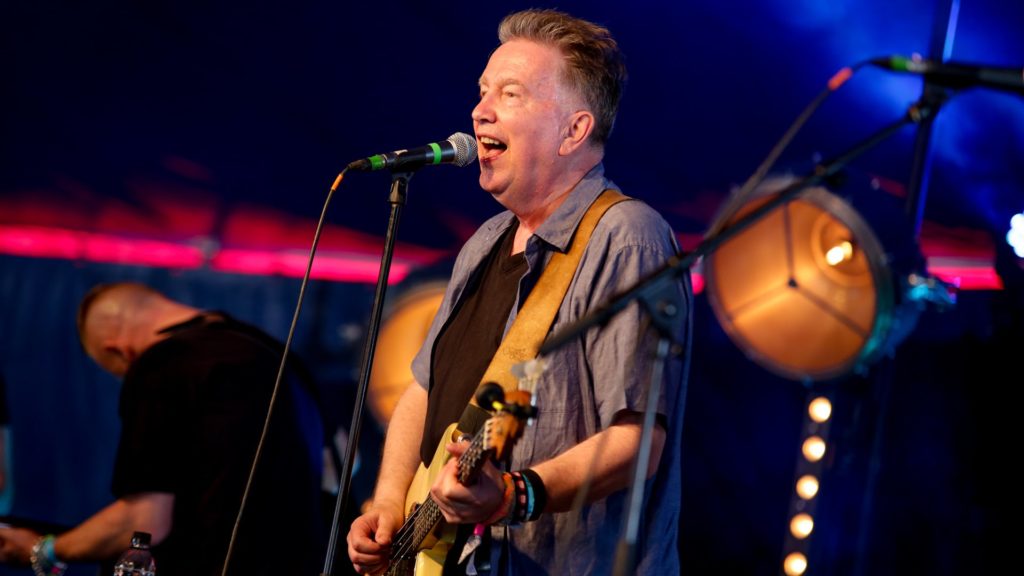 The Tom Robinson Band has announced that they will be touring the UK and Ireland to perform their legendary debut LP, 'Power in the Darkness.' The Tom Robinson Band are scheduled to play intimate gigs at both Whelans in Dublin on the 12th of October and Elmwood Hall in Belfast on the 13th of October. Tickets are still available but are selling FAST, so in order to see the critically acclaimed band live, make sure you get booking.
Tom Robinson is regarded as a musical icon during the UK punk era, and is an LGBTQ+ activist and anti-racism campaigner. The Tom Robinson Band's first performed their debut album, 'Power in the Darkness', 40 years ago at Rock Against Racism's Carnival Against The Nazi's, accompanied by Steel Pulse, The Clash and X-Ray Spex, where the band played in front of 80,000 people in Victoria Park. The band generated a fan base following their legendary performance at Victoria Park, resulting in sold out shows on their tour, where they were accompanied by Stiff Little Fingers in 1978. In addition to this, their album, 'Power in the Darkness' was certified gold in the UK and Japan.
The band's iconic single, '2-4-6-8 Motorway' secured it's place in UK punk history. The band were extremely successful through this era and are recognised for their successful tracks, including 'Glad To Be Gay', 'Too Good To Be True' and 'Up Against The Wall'.
Mancunian soul singer, Lee Forsyth Griffiths, will star as the supporting act throughout the course of the tour, so fans are in for a treat. Robinson is widely recognised for his collaborations with legendary artists Peter Gabriel and Elton John, and received artistic merit for his classic solo hits, 'War Baby' and 'Atmospherics: Listen To The Radio', released in 1983. His 15th studio album, Only The Now', released in 2015, featured Billy Bragg, John Grant, Ian McKellen, Nadine Shah, TV Smith, Lisa Knapp and Martin Carthy.
To mark the album's 40th anniversary, The Tom Robinson Band will return to perform their iconic hits for fans across the UK and Ireland.
Check out the full list tour dates below:
Wed 03 Oct NORWICH: Epic
Thu 04 Oct GREAT TORRINGTON: Plough Arts
Fri 05 Oct LYME REGIS: Marine Theatre
Sat 06 Oct BRIGHTON: Brighthelm Centre
Tue 09 Oct HUMBERSIDE: Ropery Hall
Wed 10 Oct BIRMINGHAM: Glee Club
Thu 11 Oct MANCHESTER: Band On The Wall
Fri 12 Oct DUBLIN: Whelan's
Sat 13 Oct BELFAST: Elmwood Hall
Tue 16 Oct LEEDS: Brudenell
Wed 17 Oct GATESHEAD: Sage
Thu 18 Oct GLASGOW: King Tut's
Fri 19 Oct LIVERPOOL: Philharmonic
Sat 20 Oct SOUTHAMPTON: The 1865
Tue 23 Oct CANTERBURY – Festival
Wed 24 Oct BRISTOL: The Fleece
Thu 25 Oct CARDIFF: The Globe
Fri 26 Oct OXFORD: Bullingdon
Sat 27 Oct LONDON: 02 Shepherds Bush Empire
https://www.youtube.com/watch?time_continue=3&v=ar_saHB60qU
Tom Robinson Band – 2-4-6-8 Motorway (1997)
https://www.youtube.com/watch?v=ArGNB5M3Kg4
War Baby – Tom Robinson (1983)
https://www.youtube.com/watch?v=uRXUIJcE95s
Tom Robinson Band- Too Good to be True (1978)