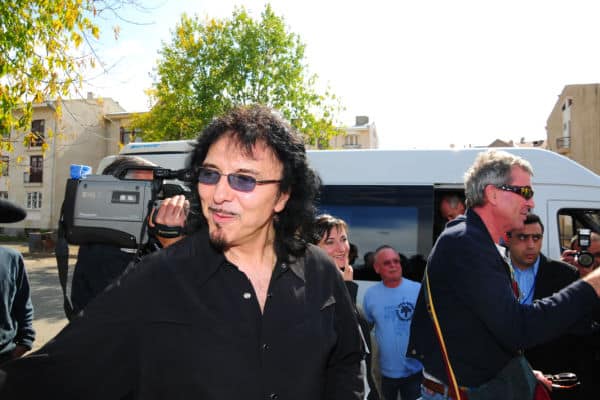 Would you like to listen to the article instead of reading it?
Tony Iommi is working on the music for the upcoming event 'Black Sabbath – The Ballet'.
Taking place in September, Black Sabbath – The Ballet will see ballerinas dance to reorchestrated versions of classic Black Sabbath tracks.
Such tracks include 'War Pigs', 'Sabbath Bloody Sabbth', Solitude', Lugna Surprise, Orchid, Ironman, 'Paranoid' and of course 'Black Sabbath'.
Created by Carlos Acosta, the event will begin at Birmingham's Hippodrome, before the tour moves on to Plymouth's Theatre Royal, and London's Sadler Wells.
Carlos Acosta is the director of Birmingham's Royal Ballet.
Acosta has previously said that the event  "represents so many people, a generation of people for whom the band was speaking directly to them". More on this here.
"nice ring to it"
In a press statement, Tony Iommi admitted that he did not quite envisage Black Sabbath and ballet merging together, but he does think it has a "nice ring to it".
"I'd never imagined pairing Black Sabbath with ballet but it's got a nice ring to it! I'm looking forward to seeing how this all develops. Black Sabbath have always been innovators and never been predictable, and it doesn't come any more unpredictable than this! I've met with Carlos several times and his enthusiasm is infectious", he said.
Carlos Acosta also released his own statement.
"Black Sabbath is probably Birmingham's biggest export, the most famous – and infamous – cultural entity to ever emerge from the city – so I was naturally drawn to the idea of a collaboration between what most people might think are the most unlikely of partners", he said.
"The band's enthusiasm for the project is a huge endorsement. They are putting their trust in us to deliver something completely new and original, and that's quite a responsibility but one that we are beyond excited to take on". 
Earlier this week, Tony Iommi shared a photo of himself working in the studio alongside Acosta via Instagram. Check that out here.