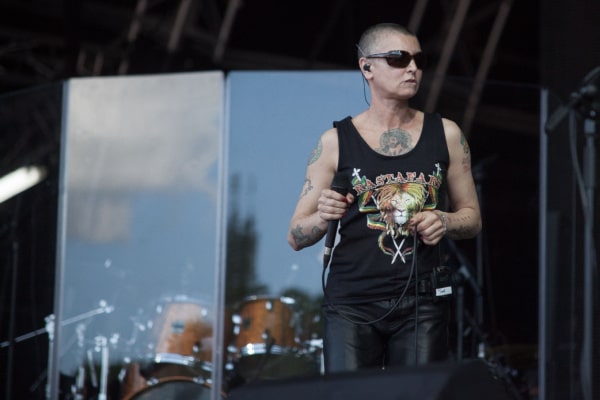 Would you like to listen to the article instead of reading it?
Following news of her death, tributes have been paid from far and wide to the late Irish singer Sinead O'Connor.
O'Connor passed away yesterday aged 56, with a cause of death yet to be confirmed.
The singer's death was confirmed by her family, who released this statement.
"It is with great sadness that we announce the passing of our beloved Sinéad. Her family and friends are devastated and have requested privacy at this very difficult time", they wrote.
Sinead O'Connor arrived on the international map, following her cover of the track 'Nothing Compares 2 U', which was written by Prince. The cover saw O'Connor win several Grammy Awards in 1991.
"don't really have words"
With tributes being paid to O'Connor from the likes of Taoiseach Leo Varadkar, and President Michael D Higgins, the world of showbusiness also paid homage to the late singer.
Victoria Mary Clarke an Irish journalist, who is married to Pogues music icon Shane MacGowan, thanked O'Connor for her "love and friendship".
"We don't really have words for this but we want to thank you Sinéad", she wrote. "For your love and your friendship and your compassion and your humour and your incredible music".
"We pray that you are at peace now with your beautiful boy. Love Victoria and Shane".
In another post, Victoria added, "She told outrageous jokes at the most inappropriate times and she cracked me up! There will never be anyone even remotely like her".
Check that out below.
I just also wanted to share that she was incredibly funny! She told outrageous jokes at the most inappropriate times and she cracked me up! There will never be anyone even remotely like her ❤️❤️❤️❤️❤️ #Sinead ❤️❤️❤️❤️❤️ pic.twitter.com/8XxXlSRGQa

— @victoriamary (@Victoriamary) July 26, 2023
Dublin band Aslan whose frontman Christy Dignam passed away last month, also paid tribute to Sinead O'Connor.
https://twitter.com/OfficialAslan/status/1684273720745943047?ref_src=twsrc%5Etfw%7Ctwcamp%5Etweetembed%7Ctwterm%5E1684273720745943047%7Ctwgr%5E5686bdc6c46ae5264223d86940167868eb34f167%7Ctwcon%5Es1_&ref_url=https%3A%2F%2Fwww.classichits.ie%2Fnews%2Fshowbiz%2Fsinead-oconnor-hailed-as-the-greatest-voice-of-her-generation%2F%3Fpreview%3D1
"sang with such truth"
Elsewhere, Irish singer Mary Black also recalled performing with O'Connor at the Late Late Show in 2017, calling it a "special moment". The pair performed Adeste Fideles on stage together.
"She sang with such truth. Every word she sang in any song, you felt she meant it from the bottom of her heart", Black said. "She had that sort of brilliant, raw talent that came out no matter what song she sang".
"It was in old ballads … or it could be a hymn. She never just sang, she gave it her whole soul and heart. And I think that's what made it so special", she added, "She was fragile and fearful, but fearless as well, in that when she felt something was wrong or when she felt she needed to speak, she would speak".
"And that was an unusual trait in a woman, particularly going back 20 years when she was starting out".
Other household names who paid tribute to Sinead O'Connor also include Tom Morello from Rage Against The Machine, Smashing Pumpkins' Billy Corgan, along with writer Caitlin Moran, who called her "the greatest voice of her generation".
Global superstar Russell Crowe also recalled meeting O'Connor outside a Dublin pub, while he was working in the capital.
"In a conversation without fences we roamed through the recent Dublin heatwave, local politics, American politics, the ongoing fight for indigenous recognition in many places, but particularly in Australia, her warm memory of New Zealand, faith, music, movies and her brother the writer", he said.
"I had the opportunity to tell her she was a hero of mine", the actor added. "What an amazing woman. Peace be with your courageous heart Sinéad".
Family and friends of Sinead O'Connor have request privacy at this difficult time.