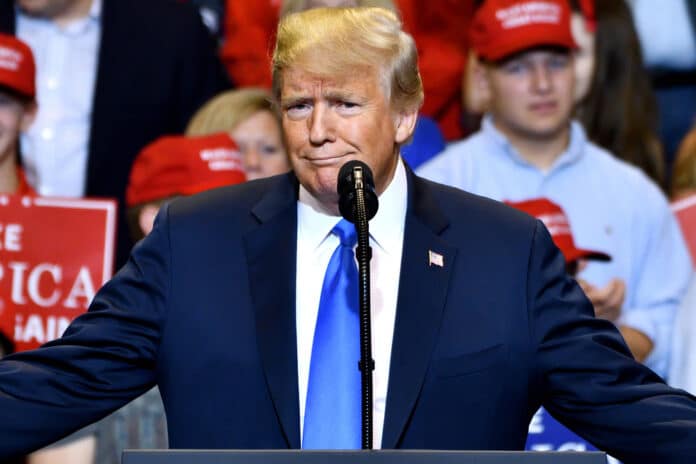 President Donald Trump asked his advisors about the possibility of launching a missile strike on Iran's primary nuclear site.
The New York Times broke the story. His advisors told the President that a strike against Iran was not a viable option.
The paper reported that a meeting took place in the oval office last Thursday. Citing four current and former US officials, The New York Times wrote that Trump wanted to know what his options were in dealing with Iran. Intel that was sourced by the paper, indicated that Iran had stockpiled more uranium than is allowed under the 2015 Iran nuclear deal. The limit was set at 300 kilograms and reports suggest that Iran had 12 times that limit. It is important to note that Trump took the US out of the deal in 2018.
The President asked his highest ranking national security officials what responses he had to Iran and the best way to handle the situation.
Vice President Mike Pence, Secretary of State Mike Pompeo, acting Defence Secretary Christopher Miller and Chairman of the Joint Chiefs of Staff Gen. Mark Milley were among the senior advisers who convinced the President not to pursue a military strike. The paper also reported that the officials warned an attack on Iran could lead to intense confrontation in his final days as President.
Administration officials who had knowledge of the meeting told the paper that Pompeo and Milley reinforced the point that an attack on Iran could escalate into a large conflict. The general consensus after the meeting was that a strike on Iran was off the table.
However, officials told the New York Times that Trump hasn't ruled out a possible strike on Iranian allies and assets such as militias in Iraq.
Trump withdrew from the Iran deal in 2018 and reintroduced economic sanctions on the country. In May 2019, Iran announced they were partially withdrawing from the deal. July 2019 saw the country announce their intentions to increase their levels of uranium beyond the limits set out in the deal.
Before the US elections, political commentators had suggested if Trump lost the election, he would not handle the transition between the two administrations peacefully. With his reluctance to concede defeat and the reports on Iran, it suggests that Trump will not leave office quietly.
There has been no official response from the Biden administration about these reports. President elect Biden has said in the past that he would re-join the 2015 deal if Iran complied with the terms that were agreed.