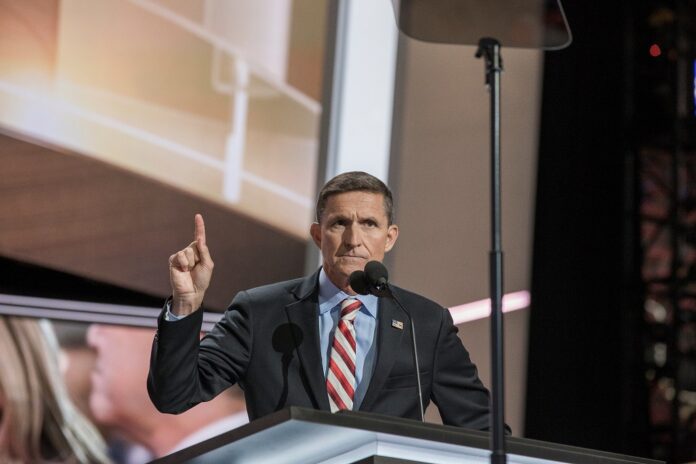 President Trump has announced on Twitter that he is giving a full pardon to his former security adviser Michael Flynn.
Mr Trump wrote, "It is my Great Honor to announce that General Michael T Flynn has been granted a Full Pardon," Trump wrote. "Congratulations to General Flynn and his wonderful family, I know you will now have a truly fantastic Thanksgiving."
In 2017 Flynn pleaded guilty to lying to the FBI about meetings he had with Russian Ambassador Sergei Kislyak in the weeks prior to President Trump's inauguration. Mr Flynn has tried to withdraw his guilty plea since. The military man was TRump's first security adviser but was sacked by Trump after only 24 days in the job when news of his contact with the Russian ambassador broke.
Flynn was one of several Trump team members to plead guilty or be convicted as part of former Special Counsel Robert Mueller's investigation into Russian interference in the 2016 US election.
Trump signalled earlier this year that he was considering a pardon for Flynn, claiming that the FBI has destroyed Flynn's life. Cooperation with the investigation was part of the former security adviser's plea deal. Flynn reneged on the deal, however, saying that the FBI had tricked him into talking about his conversations with Mr Kislyak. Flynn is the former head of the Pentagon's Defense Intelligence Agency. He was sacked from that position in  2014.
Trump has already commuted the sentence of his friend and ally Roger Stone. Stone was sentenced to three years in prison after being convicted of obstruction, lying to Congress and witness intimidation. Other Trump aides, Paul Manafort and George Papadopoulos were convicted, like Stone, as part of Robert Mueller's Russian investigation.
Chair of the House intelligence committee Adam Schiff said on Twitter, "Donald Trump has repeatedly abused the pardon power to reward friends and protect those who covered up for him. This time he pardons Michael Flynn, who lied to hide his dealings with the Russians. It's no surprise that Trump would go out as he came in – Crooked to the end."