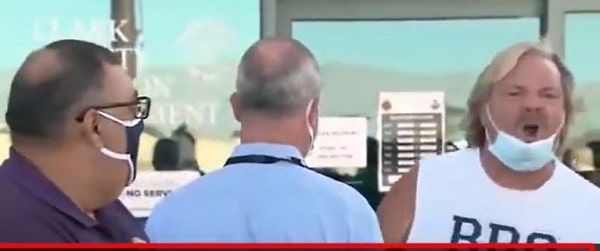 A Trump supporter highjacked a press conference at the count in Nevada to claim Biden is trying to "steal the election".
President Trump said vote tallies that suggest Biden will win the election were evidence of "major voter fraud". This is despite there being no evidence to support the claim.
Coincidently, the incident occurred at a press conference in Clark County, Nevada. The race is extremely tight and Nevada is one of the states expected to vote for Biden.
A Trump supporter wearing a "BBQ, BEER, FREEDOM" sleeveless shirt began interrupting Registrar Joe Gloria while he was addressing reporter's questions. Shouting over Gloria's shoulder, then man proceeds to scream his message to onlooking reporters.
"The Biden crime family's stealing the election! The media's covering it up! We want our freedom for the world! Give us our freedom, Joe Biden," the man roared.
Unwilling to show the interruption any attention, Gloria turns back to the reporters and says: "Where were we?"
The ballots count still continues around the country, but former Vice President Joe Biden is currently favourite to beat Trump.
He already has the key swing states of Wisconsin and Michigan secure, and is narrowly ahead in Nevada.
Trump claims Biden votes are major fraud on the nation
However, President Trump is already repeating the sensational claims of voter fraud that he has been making throughout the campaign. The president spoke early this morning, declaring it an embarrassment to the country.
"This is a fraud on the American public, this is an embarrassment to our country. We were getting ready to win this election. Frankly, we did win this election. So, our goal now is to ensure integrity for the good of this nation. This is a very big moment. This is a major fraud on our nation."
Trump adds that he plans to contest the results at the US Supreme Court. He wants to stop all vote counting, despite it still ongoing.
"As far as I'm concerned, we've already won," he said.