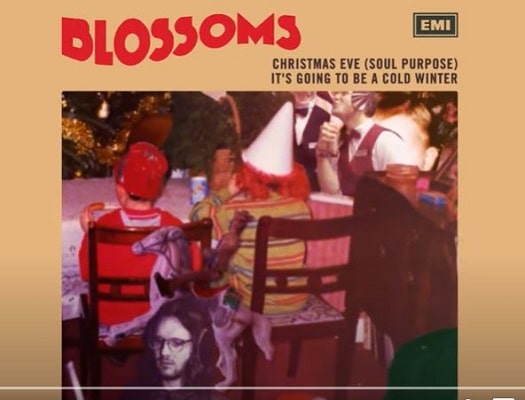 English indie pop band, Blossoms are getting ready for the festive season by releasing new double A-side. 'Christmas Eve (Soul Purpose)' and 'It's Going To Be A Cold Winter' released today at 5pm.
Teasing the releases yesterday, the band have now put the two new songs available on streaming platforms. Although, the LP will also come out on a limited edition, 7-inch vinyl single on December 11th.
Blossoms producer, Rich Turvey teams up with The Coral's James Skelly for 'Christmas Eve (Soul Purpose)'. The pair worked previously on the band's second album, Cool Like You. Recording took place between Parr Street Studios, Liverpool and Hitsville Stockport, where the band themselves recorded and produced 'It's Going To Be A Cold Winter'. The track also features Stockport Junior Voices Choir and artwork by The Coral's James Skelly.
This is Blossom's first new material since releasing third album Fooling Loving Spaces, earlier this year. The release follows news of their documentary, Back To Stockport. Shooting took place around their headline show at Stockport County FC's Edgeley Park stadium on 22nd June, 2019. The documentary will be available on Amazon Prime from November 8th, with a YouTube premiere 24-hours beforehand.
Blossoms explain: "We've worked with Charlie [Watts, director] on and off since the band started really. So, when the opportunity to make something together surrounding the homecoming show in Stockport came about, we jumped at the chance.
"We think he's really captured the spirit of the band, and being a friend, he was able to get the natural moments you don't normally see in a band documentary. We love the film and hope you do too!"
During the summer, Blossoms confirmed they had started work on their fourth record by sharing a number of studio shots online. They also reveal that they have already wrote "most" of its follow-up. Frontman Tom Ogden said at the time that its first single was "pretty much done", admitting that the band "[didn't] want to wait too long before putting out ­something brand new".
You can check out the Blossoms' new release in the video below.